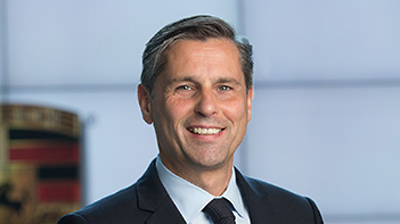 Luxury carmaker Porsche is expanding its 'Porsche Passport' vehicle subscription model and 'Porsche Drive' premium car rental service, in response to positive reaction to a pilot of the shared service model.
Following its launch in Atlanta, the services will be offered in Las Vegas, Phoenix, San Diego and Toronto.
The pilot project in Atlanta, which has been run by Porsche Cars North America (PCNA) since the end of 2017, will be taken over by the two dealers in Atlanta going forward.
Klaus Zellmer, president and CEO of PCNA (pictured), said: "Consumers increasingly want more flexibility, more individual choice, and to have this on their mobile devices. We want these consumers to have the same superb level of Porsche experience that we provide for our customers who buy or lease."
With 'Porsche Passport', customers can change their vehicle as required using an app, with up to 20 models to choose from.
Clutch Technologies, which was already involved in the pilot project, will continue to provide the technology platform.
Porsche dealers will be responsible for all services and the customer experience outside the digital world. Clutch will be taking over the role of 'digital concierge'.
The 'Porsche Drive' premium vehicle rental service offers customers the opportunity to hire Porsche models for anything from a few hours to several weeks.
There is also a service for the delivery and collection of the car.
During the 18-month pilot in Atlanta, Porsche said users drove over one million miles. Over half of subscribers 'flipped' their vehicle at home and close to 30% swopped vehicles at work, with the remaining drivers making the switch at another location such as a coffee shop or restaurant. More than 80% of Porsche Passport members were new Porsche customers.
In addition to Porsche Passport and Porsche Drive, Porsche has launched the pilot for 'Porsche Host' in the US together with car-sharing platform provider Turo.
In Germany, 'Porsche InFlow' is an offering allowing short-term and flexible use of used vehicles.
The expansion follows the announcement from Mercedes-Benz that it would expand its own vehicle subscription service in the US after it attracted a new, younger customer base.
Adam Chamberlain, vice-president of Mercedes-Benz USA, said: "The pilot program far exceeded our expectations.
"82% of the subscribers are new to Mercedes-Benz, and we are hitting the mark attracting younger drivers who might not otherwise have the opportunity to experience the brand at such a young age.
"Families and couples are equally accessing the service, whether for use as their primary car, for fun or as a way to test drive a wide variety of models."
The service is also powered by Clutch Technologies, a mobility software platform that was acquired by Cox Automotive last year.