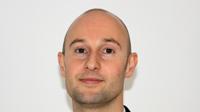 Motor finance expert Paul Harrison has joined contracthireandleasing.com as head of strategic partnerships.
Harrison, who held the position of head of motor finance at Auto Trader for the past three years, joined the online business at the start of November.
The newly-created role will focus on strengthening relationships within the automotive industry as well as identifying new opportunities to expand the company's activities, reach new audiences and deliver additional value for its advertising customers.
Harrison will also play an active role in the company's strategy, contribute to external communications and conduct market analysis.
Contracthireandleasing.com was established in 2000 by Really Good Domains and has more than three million personal and business leasing deals from hundreds of manufacturers, retailers and brokers who advertise their offers on the website.
David Timmis, managing director of Really Good Domains, said: "Paul brings significant industry relationships, in-depth market insight and a wealth of experience to the new role. I am delighted to welcome Paul on board during this exciting time for the business and the leasing sector in general."
Harrison said: "I have been impressed with the team's plans for the future. The company has a long history of working collaboratively with lenders, manufacturers, retailers and brokers, which has helped leasing to flourish.
"The combination of shifting consumer behaviour, changing market conditions and regulatory activity presents a real opportunity to establish personal leasing in the mainstream."