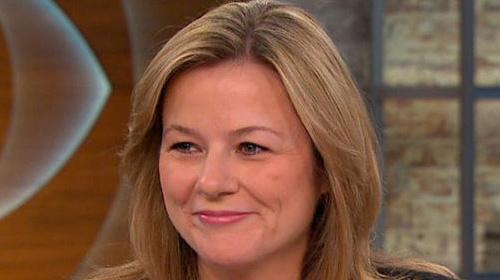 The total balance of outstanding auto loans in the US reached $1.1 trillion at the end of last year.
Data from Experian shows loan balances grew year-on-year just over 5%, or $57 billion, with banks now accounting for 33% of the market, while auto captives have supplied 23% of finance and credit unions 28% following their surge of double-digit growth for the past few years.
Most of the outstanding balances remain in the prime or super prime sector, which accounts for 61% of the market and most of the increase in finance, with sub-prime accounting for just under 20% of the market.
Total open automotive loan balance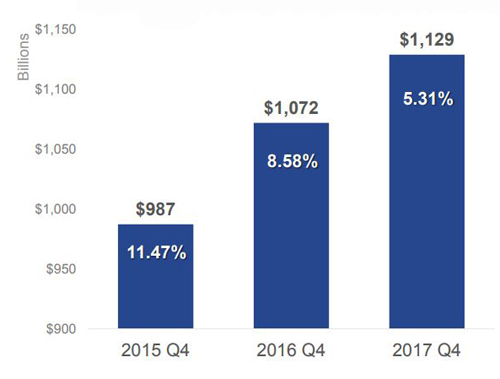 Source: Experian
Total open automotive loan balance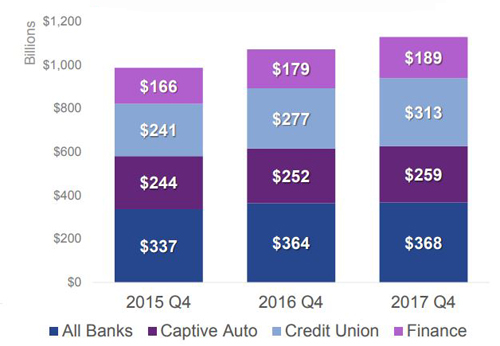 Source: Experian
Experian analysis also reveals that 30-day delinquency rates are improving, down from 2.44% to 2.36% between Q4 2016-17.
The percentage of new cars with financing was 85.1% in Q4 2017, down slightly on the previous year, while the proportion of used cars with financing grew from 53.5% to 53.8%.
In total, around 28% of new cars are leased, compared to 4% of used cars. Leasing tends to be favoured by prime and super prime borrowers, where 34.8% take the option, compared to less than one quarter for sub-prime.
Average new car loans reached a record high of $31,099, a rise of $509, while terms stretched to 69 months for new loans, although just under one-third are between 73-84 months.
The average loan term for a used car rose slightly to 64 months, with around 18% opting for 73-84-month repayment periods.
Lease repayment terms remained broadly unchanged at 36 months for new leases.
Average monthly repayments reached a new high, rising $8 a month to $515 for new loans and increasing $17 a month to $430 for new leases. Average used payments were also at record highs, reaching $371, a rise of $8 a month.
Interest rates averaged 5.11% for new vehicles and 8.84% for used at the end of last year.
Melinda Zabritski, Experian's senior director of automotive financial solutions, said: "We can expect to see interest rate rises continue throughout 2018. Credit scores are improving as lending continues to shift into more prime segments."
Percentage of vehicles with financing

Source: Experian
% of all new vehicles that are leased

Source: Experian
Finance Market: new v used units

Source: Experian
Used % of lease market

Source: Experian