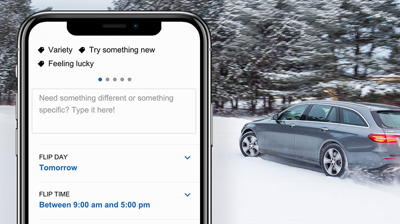 Mercedes-Benz is expanding its vehicle subscription service program in the US following the success of a pilot scheme in Philadelphia and Nashville.
Mercedes-Benz Collection will launch in Atlanta, the home city of Mercedes-Benz USA, with a three-tier service offering monthly prices ranging from $1,095 to $2,995, depending on the type of vehicles required.
Adam Chamberlain, vice-president of Mercedes-Benz USA, said: "The pilot program far exceeded our expectations.
"82% of the subscribers are new to Mercedes-Benz, and we are hitting the mark attracting younger drivers who might not otherwise have the opportunity to experience the brand at such a young age.
"Families and couples are equally accessing the service, whether for use as their primary car, for fun or as a way to test drive a wide variety of models."
The service is powered by Clutch Technologies, a mobility software platform that was acquired by Cox Automotive last year.
The system is used by several subscription service providers, including Access by BMW and Porsche Passport.
Geoff Robinson, vice-president of Mercedes-Benz Financial Services USA, said: "Mercedes-Benz Collection is proof that there is a strong appetite for services that provide people with the flexibility to move in and out of various Mercedes products, depending on their needs, without the added effort of managing vehicle insurance, maintenance or mileage limits.
"Based upon market input and the learnings from our pilot programs, we continue to fine tune our offering to meet the changing demands of our customers."
There is global growth in vehicle subscription services that offer users more flexibility than traditional car ownership or leasing, with cars typically hired on monthly contracts to avoid penalties for early termination.
In Germany, Mercedes-Benz Bank is piloting its own car subscription service called Mercedes me Flexperience.
It is based on Mercedes-Benz Rent, the rental offer from Mercedes-Benz Bank, and was developed as a joint project between Daimler Financial Services and Lab1886, the innovation hub of Daimler.
Volvo has launched a car subscription package, called Care by Volvo, starting with its new XC40, while in the US, Ford has launched its own subscription service called Canvas.
Jaguar and Land Rover has launched its Carpe car subscription services in the UK, which has been developed by InMotion Ventures, its transport, mobility and travel innovation arm.
In the used car market, independent provider Fair allows consumers to access vehicles without ownership or contracts through its app-based service.
In the UK, companies such as Drover and Wagonex have partnered with manufacturers to offer subscription services.
Leasing companies are also rolling out subscription services, with LeasePlan offering its Subscribe & Drive service in the UK.
The logistical challenges of running subscription services were highlighted when Cadillac announced a "temporarily pause" in its car subscription service in the US last year.
Book by Cadillac had expanded from New York City to Dallas and Los Angeles after the manufacturer reported "overwhelming demand for enrolment" in the New York metro area.
However, industry reports suggested there were key challenges relating to the complexities and cost of fleet management and technological issues.
As vehicle services move closer to the traditional territory of rental companies, incumbent suppliers have responded, as they already have the infrastructure and experience to offer flexible vehicle provision.
Car rental giant Enterprise Holdings, which manages the largest and most diverse privately-owned fleet in the world, has launched Subscribe with Enterprise in three US states, covering Minnesota, Missouri and Nevada.
Sixt has gone a step further, with the launch of a new smartphone app offering vehicle rental, car sharing and taxi/transfer services on a single platform as part of its strategic expansion to become a global mobility services provider.
Sixt claims the app, called One, is the first integrated mobility platform in the world and can be used to book its own services along with those of a range of affiliated partners, so customers have access to 240,000 vehicles, 1,500 mobility suppliers and more than one million drivers.
In a key development, Sixt's own connected car fleet will become multi-use, so vehicles can be used either for car sharing or rental.
The app provides access to three services, called Sixt rent, Sixt share and Sixt ride.
Through Sixt rent, customers can use their smartphone to unlock their rental vehicles up to 30 minutes before the start of their booking, bypassing the traditional counter-based service. It has already been launched at major German airports and during 2019 will expand to other airports in Europe and the USA along with some urban areas.
By digitalising the rental experience, the number of outlets can be expanded rapidly, with Sixt planning digitally enabled outlets at hotels or parking garages.
This larger urban footprint also supports Sixt share, the brand's new car-sharing service.
Customers can use the app to book vehicles on a fully flexible basis, from a few minutes up to 27 days, with the freedom to leave the car at any of its expanded network sites.
Using Sixt's connected car fleet, vehicles will be available for both rental and car-sharing services.
The final element of the app is Sixt ride, which provides a range of taxi, ride-hailing and transfer services. Through its partners, Sixt says it can offer one of the world's largest networks of taxi and ride-hailing services.