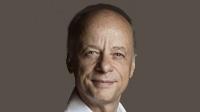 LeasePlan has uncovered widely divergent total costs of driving a car in Europe - linked primarily to depreciation and taxation
Norwegian car owners pay more than other Europeans to drive a car.
At €708 per month, Norwegians pay almost twice as much for their petrol car as Hungarian drivers (€364).
The Netherlands is the most expensive country for diesel car drivers. On average, the Dutch spend €695 per month on their diesel vehicle. Here again, Hungary is the cheapest country (€369).
These are just a few of the findings of the LeasePlan CarCost Index 2016, a recent study of the costs of car ownership and usage of petrol and diesel cars in 24 European countries.
This study maps out all the cost elements of an automobile in great detail at an international level, drawing upon LeasePlan's knowledge and experience from its own multi-branded fleet using index methodology.
Total car cost per month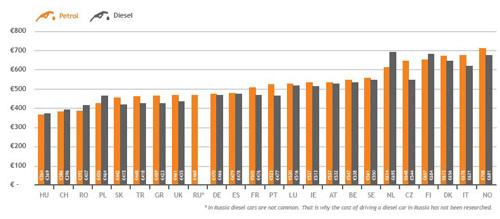 The LeasePlan CarCost Index compares the most important cost elements, like purchase price, deprecation costs, repairs and maintenance, insurance, taxes and fuel expenses, including winter tyres if required by law. The analysis is based on the first three years of operational costs and an annual mileage of 20,000 km.
European divide: regional differences
Within Europe, the average cost of driving a small to medium car can vary as much as €344 per month. The top three most expensive countries for driving a petrol car are Norway (€708), Italy (€678) and Denmark (€673).
The ranking of most expensive diesel car countries is led by the Netherlands (€695), followed by Finland (€684) and Norway (€681). It's noteworthy that in East European countries like Hungary, the Czech Republic and Romania, the costs of driving a petrol and diesel car are significantly lower, starting at €369 per month.
Car owners have little influence on the costs
Depreciation costs are the main contributor to the total cost of car ownership. Within Europe, the average depreciation costs for small to medium cars represent 37% of the total cost. In Hungary, the low overall cost is due primarily to the lower than average purchase price which positively affects the deprecation costs. Road tax and VAT account for 20%, while fuel contributes 16% to the total cost of a car per month. This means that car owners have relatively little influence on the costs.
In six of the 24 European countries studied, driving a diesel car is more expensive than driving a petrol car. Although the pump price for diesel is cheaper than the price for petrol, other factors such as more expensive taxes, insurance, or maintenance costs explain the higher total cost for diesel vehicles in some countries.
Environmental taxation plays a role
The study also shows that there is a strong correlation between the high overall cost and high road tax/VAT (value added tax) across both vehicle types for the most expensive countries (Italy, Nordic countries and the Netherlands) and vice versa for the most inexpensive countries, which are taxed the least (Hungary, Czech Republic, Romania).
This can be seen as a reflection of the relatively strong 'green' movements in the more expensive countries , which translates into environmental regulation via taxation.
For example, in the Netherlands VAT and road tax add up to 31% of the total costs of driving a diesel car. When it comes to petrol vehicles, Norway is number one in taxes, which can add up to 29% of the total cost.
Tex Gunning, chief executive officer, LeasePlan (pictured above) said: "Depreciation and the lack of control over vehicle costs are two facts that raise questions about the benefits of car ownership versus leasing or other mobility alternatives for people today. Our presence throughout the automotive value chain – combined with our global scale – allows us to manage our lease vehicles very cost competitively and indeed at a lower naked cost for our customers than purchasing their own cars or fleets.
Relative cost of driving a car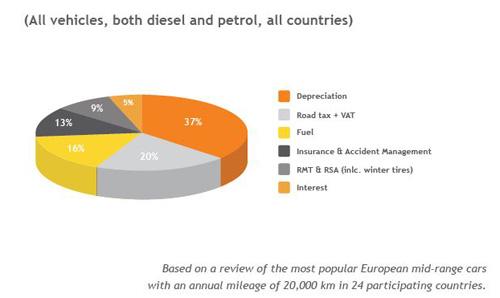 "Due to the complexity of car cost elements, we recommend that potential car owners or fleet managers consider the bigger picture when deciding to buy a new or used car – or even better to consider leasing or forward-looking mobility solutions like car sharing, which can be lighter on the wallet as well as the environment."
Repair and maintenance most expensive in Sweden
The costs for maintenance and roadside assistance are the highest in Sweden at 15% (€85) of total cost. On the contrary, Turkey has the lowest repair and maintenance costs at €28 per month. This is unsurprising, since labour costs represent a significant share of the repair and maintenance expenditure and Sweden's hourly labour rate can be three times as high as in Turkey.
Insurance: prioritising safety above speed pays off
Switzerland has the highest insurance costs in Europe.
These costs add up to €117 per month for both petrol and diesel. The Czech Republic is the cheapest country for petrol vehicle insurance at €37. In Sweden – generally one of the more expensive countries – prioritisation of safety above speed pays off.
The LeasePlan CarCost Index shows that Sweden is the most inexpensive European country for diesel vehicle insurance at €39 per month.
Average petrol costs: €100 per month
Based on an annual mileage of 20,000 kilometres, the average fuel expenditure in Europe for petrol is €100 per month, whereas €67 per month is spent on diesel. Italy takes the lead in fuel costs at € 136 per month for petrol vehicles, which is caused by the high fuel tax. At just €54 per month, the Russians profit from the cheapest fuel costs for petrol due to the country's large oil reserves. The cheapest country for diesel is Poland at €49 per month.
The CarCost Index 2016 analyses the overall costs of owning and operating vehicles in 24 countries: Austria, Belgium, the Czech Republic, Denmark, Finland, France, Germany, Greece, Hungary, Ireland, Italy, Luxembourg, the Netherlands, Norway, Poland, Portugal, Romania, Russia, Slovakia, Spain, Sweden, Switzerland, Turkey, and the United Kingdom.