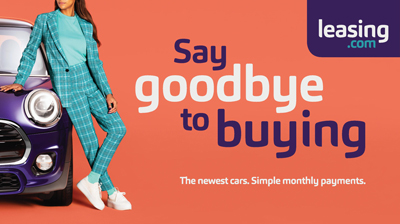 New car marketplace Leasing.com has launched in the UK in response to changing car buying patterns among consumers.
Executives behind the site, which has rebranded from ContractHireAndLeasing.com, say they are responding to a behavioural shift as more consumers switch from purchasing or hire purchase to leasing.
Last year, the British Vehicle Rental and Leasing Association (BVRLA) reported that demand for personal leasing was up around one-fifth.
Dave Timmis, managing director of Leasing.com, said: "The new car finance market is changing, and we're changing with it. Traditionally leasing has been the reserve of businesses, not the general public. We want to change that. We're launching with a bright new brand that will appeal to a wide audience.
"Leasing offers certainty in uncertain times. We want everyone to know that leasing a new car is a simple, affordable option for everybody to consider."
In addition to rising consumer interest, a growing army of employees are opting out of company car schemes in favour of cash, so they are free to source their own vehicles instead.
The leasing industry is adapting by offering new services to retain their business as drivers change from fleet to retail customers.
At last year's International Asset Finance Network conference, delegates heard that the shift is bringing a wide range of challenges for suppliers as the market shifts from a B2B to a B2C environment, including the need for new skillsets among leasing company employees to manage a different type of customer journey.
Miguel Cabaça, managing director of Arval UK, said: "Private customers require very different skill sets in terms of communication skills, in terms of the way you approach them, the way you communicate with them.
"It's not exactly the same thing communicating to a driver who is part of a corporate customer car driving scheme versus a private customer that has chosen a car and is paying for it. You may say that 80% of the contact is the same but there's 20% which is very different."
Leasing.com is launching with new consumer focused options, including sort by price, total lease cost and a leasing.com value score.
Timmis added: "This will enable users to easily find the right deal for them, at the best price from the widest range of advertising partners - from brokers and dealers to the big automotive finance houses."
Leasing.com is promoting its new service through a 'Say goodbye to buying' campaign across social media, radio, TV and outdoor advertising.
The website aggregates leasing deals from a wide range of leasing companies, so to maintain standards all partners listing vehicles through its site will be required to hold at least one direct relationship with a funding partner.
Additionally, all independent leasing brokers advertising on the site must be leasing broker members of the BVRLA.
Last year, the BVRLA alerted the public to a spate of online scams advertising vehicle leasing deals that require 'no credit checks', promote 'no deposit' deals and ask people to 'direct message' via text to get the deal.
It said that legitimate leasing brokers adhere to Financial Conduct Authority rules and will carry out credit and affordability checks.
VIDEO - Why leasing companies must adjust their skillsets to meet growing private customer demand