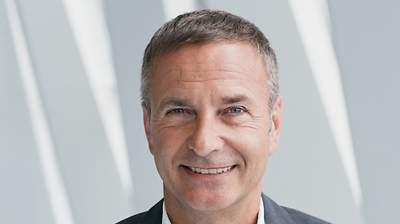 Daimler Financial Services will rebrand as Daimler Mobility this year as demand for its wide portfolio of transport services increases.
Senior executives announced the name change, likely to be introduced in July, as they revealed annual growth in revenues from traditional finance and new business channels last year.
During 2018, Daimler Financial Services concluded new financing and leasing contracts worth €71.9 billion, more than €1 billion higher than the previous year (2017: €70.7 billion).
About half of all new vehicle sales by Daimler's automotive divisions were supported by sales financing from Daimler Financial Services.
At the end of 2018, the division had more than 5.2 million financed or leased vehicles on its books, representing growth in contract volume of 10% to €154.1 billion.
The division posted earnings of €1.4 billion last year, which was down 30% after the settlement of a 14-year legal dispute with the German authorities over costs related to an automatic tolling service, Toll Collect.
Daimler Financial Services reported strong growth in demand for mobility services.
Its car2go car sharing service increased the number of registered users to around 3.6 million, compared to 3 million at the end of 2017.
Its Moovel app was also further developed so that customers in Germany can now use it to find best options for travel from a wide range of transport services. They can also directly book and pay for services such as car2go or mytaxi, as well as journeys on public transport.
In the United States, moovel is one of the leading providers of mobile ticketing solutions for transportation companies. In total, moovel North America offers 19 services in 15 US cities.
The number of registered moovel users in Germany and the United States rose 68% to 6.2 million by the end of 2018, adding 2.5 million users from its 2017 high of 3.7 million.
The company's ride-hailing group, which operates mytaxi and also took a majority stake in Chauffeur Privé (since rebranded to Kapten) last year, offers services in 12 European countries and two fast-growing markets in South America. Last year, the number of registered users nearly doubled to 21.3 million, from 11.1 million in 2017.
Daimler is planning to enhance growth through its mobility services merger with BMW, which was announced last year, to deliver economies of scale.
Bodo Uebber, member of the board of management for Daimler Financial Services, said: "Our mobility services developed extremely well last year and now have approximately 31 million registered users.
"We now want to further enhance this strong market position in a partnership with BMW. We are convinced that together, we can offer our customers an even better range of mobility services, because both services complement each other in an ideal way. Our common goal is to create a market champion for urban mobility."
Customers will be offered urban mobility services through a single source as part of the plans, which have now been approved by competition authorities. The combined business will reveal its next steps during the first quarter of this year.
The 50-50 joint venture will bring together the following five services: an on-demand mobility and multimodal mobility platform, car sharing, ride hailing, parking, and charging for electric vehicles.
In a statement the company said Daimler Financial Services, which is already a legally independent company, is to be renamed as Daimler Mobility, probably in July 2019.
Daimler Financial Services will launch additional flexible leasing and rental products during the year and online sales channels are to be expanded.
The new name for Daimler Financial Services is part of a wider strategy at Daimler, which is set to be restructured so that Mercedes-Benz Cars and the Mercedes-Benz Vans divisions became part of a single new division, Mercedes-Benz. Daimler Trucks and Daimler Buses divisions will become Daimler Truck, making them legally independent entities.
Daimler Trucks recently announced that it will invest €500 million and create more than 200 new jobs in its global push to bring autonomous trucks to the road.
The trucks will be able to drive themselves in pre-defined areas and between hubs with no driver involvement.
Its new Freightliner Cascadia already some automated driving features, making it the first-ever partially automated series production truck on North American roads.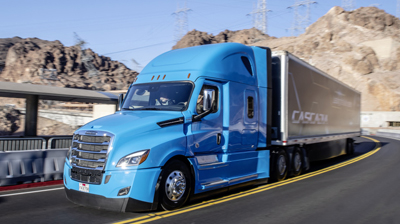 Martin Daum, member of the board of management of Daimler, with responsibility for Daimler Trucks & Buses, said: "We are ready to launch the first partially-automated new Freightliner Cascadia in 2019 – and next, we tackle highly automated trucks.
"Highly automated trucks will improve safety, boost the performance of logistics and offer a great value proposition to our customers – and thus contribute considerably to a sustainable future of transportation."
The new system can independently brake, accelerate and steer, while the driver is still required to monitor the truck and intervene if necessary.
As the development of the technology accelerates, Daimler Trucks has put the brakes on its expectations for platooning technology, through which a convoy of vehicles electronically connect to each other and closely follow a lead vehicle to achieve fuel efficiency savings.
Daimler Trucks has tested platooning for several years, especially in the US, but results showed that fuel savings, even in perfect platooning conditions, were less than expected and autonomous capabilities would deliver equivalent benefits.