During Q4 2016 Hyundai and Subaru brands saw the largest lift in search traffic in comparison to Q3, with European brands Mercedes-Benz and Audi also seeing some gains in search traffic. GMC was among the only US domestic brands to see a lift in search traffic.
The other brands that saw declines suffered from a seasonal "pinch" as many consumers were also focused on holiday spending, in addition to vehicle shopping.
The average monthly payment for those leasing vehicles dropped from $445.85 in Q3 to $435.35 during Q4. What's more, the average incentive when listing a vehicle lease for transfer fell slightly, from $673.00 in Q3 to $671.00 in Q4; however, this is up from $657.00 during the same period a year ago.
What they are leasing-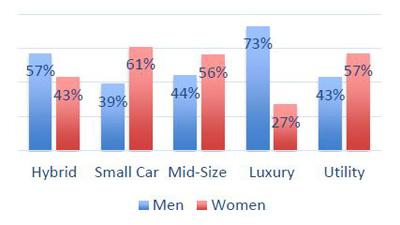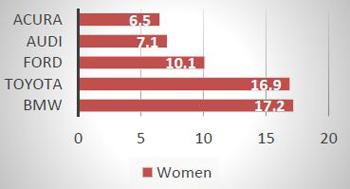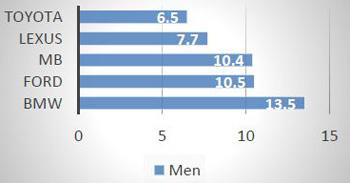 What they are paying-

Number of Leases per Household-

What type of lease are you driving?

Type of Lease in the Driveway
Smaller cars, mid-size cars and crossovers all saw slight increases from Q3 to Q4; SUVs and trucks both saw slight dips from quarter to quarter.
During Q4 2016, the number of leases per household remained relatively unchanged compared with the previous quarter, with the exception of a small bump in the number of two-lease households dipping and three-lease households increasing slightly.
Reasons for Change-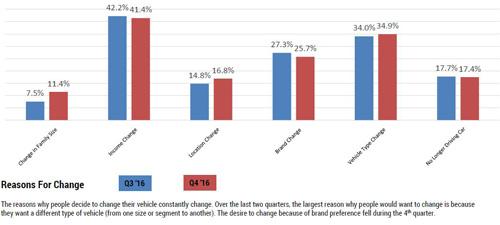 The reasons why people decide to change their vehicle constantly change. Over the last two quarters, the largest reason why people would want to change is because they want a different type of vehicle (from one size or segment to another). The desire to change because of brand preference fell during Q4.
Economy & Lease Confidence Indexes-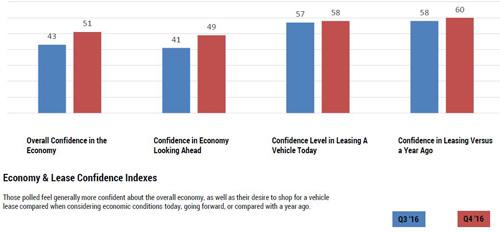 Those polled feel generally more confident about the overall economy, as well as their desire to shop for a vehicle lease compared when considering economic conditions today, going forward, or compared with a year ago.
"Overall, the Q4 report shows continued strength and stability in the lease market today," said Scot Hall, executive vice president of Swapalease.com. "Hyundai's jump in search traffic and demand is a clear indication of the brand's strength and popularity. We hope they will make modifications to their inflexible lease policy so their fans can enjoy more leasing from them in the future."