Hot spots for online car buying include the Highland areas of Scotland, Wales and the south east coastal counties, according to BuyaCar.co.uk.
Austin Collins, co-founder and managing director of BuyaCar explained that customers in these regions are taking advantage of online retailing to order from dealers that are several hundreds of miles away and have their car delivered to their home.
Online partners take on the whole sales process, through to delivery. The average distance of a typical Buyacar delivery is almost 200 miles.
The retailer compared sales figures with population density to discover that places like Manchester, Birmingham and London fall well below Highland areas of Scotland for sales per 100,000 of population.
In what is believed to be the first study of its kind BuyaCar has now produced a heat map of Britain, revealing where people are most likely to buy cars entirely online rather than from physical dealerships.
How rural Britain leads the way in online car buying - online only car purchases compared with population density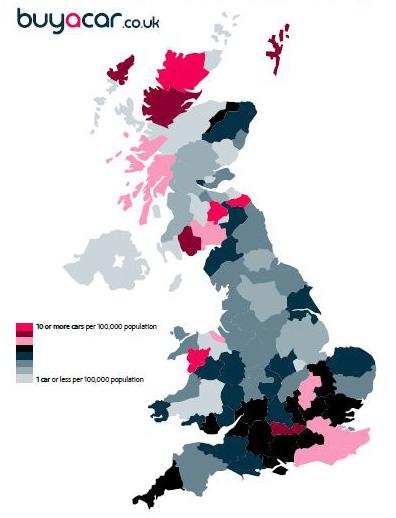 Online car sales data shows a greater concentration of buyers in the big metropolitan areas. That is because more goods in general are bought in areas with the highest populations. But BuyaCar arrived at the true picture by calculating its sales per 100,000 of population.
Collins said: "BuyaCar's delivery analysis reveals higher concentrations of cars sold entirely online to customers in the Scottish Highlands and many English and Welsh coastal areas than in London, Manchester, Birmingham or Newcastle.
"The company analysed its geographic market penetration after discovering that the average distance BuyaCar covers to deliver a car to the customer's door is 197 miles, based on data from the past six months."
Online car buying has begun to grow much more rapidly in Britain in recent times than when BuyaCar first pioneered the concept in 2002.
He added: "Trade scepticism in the early days of e-Commerce meant a common belief that motorists would ever be comfortable buying cars without first touching, smelling and driving the exact car they wanted to buy. But BuyaCar tapped into a market of people who were happy to have found a new way to buy a car that didn't involve face-to-face haggling.
"But now that nearly 15% of all retail spending in Britain is online, according to the latest government figures for January 2017*, internet motor retail is increasingly accepted by consumers."
"The manufacturers have also seen the opportunity," Collins added, "with more stepping in all the time to help create what has been dubbed as 'the Amazonification of motor retail'.
BuyaCar has welcomed increased competition in online motor retail over recent years as a sign that resistance to the online purchase process for the second biggest item most people will ever buy is gradually disappearing.
In its latest survey of nearly 1,000 motorists more than 25% of people said they were no longer afraid to buy a car without seeing it first.**
Collins stressed: "Because we aren't delivering from a central location we were interested to see how far the typical delivery to a customer's door was.
"When we found that the average distance is nearly 200 miles we looked to see how far flung our customers were – and that threw up some surprising facts about people who buy cars online.
"Naturally, in terms of raw numbers, most of our sales were in the big city areas where most people live. But when we compared our sales with population density it revealed that places like the highlands and islands of Scotland are home to the keenest online car buyers.
"So, although we sell a lot of cars to people in London, Manchester and Birmingham we actually have a higher sales rate in many rural areas.
"This dispels for us any lingering myths that rural dwellers are slower than city people when it comes to adopting new ways of doing things.
"It also shows the importance of the internet to rural communities, for whom visiting lots of car dealerships is a much more time-consuming and expensive task.
"For dealers it's a powerful illustration of the benefits of being able to use online partners to help reach customers who would never present on the forecourt."
*Office for National Statistics 'Retail Sales in Great Britain: Jan 2017' https://www.ons.gov.uk/businessindustryandtrade/retailindustry/bulletins/retailsales/jan2017
** BuyaCar.co.uk survey of 930 consumers conducted in Q4 of 2016
Pete Wootton, Head of BuyaCar.co.uk is to present on The future of the Dealership at the International Auto Finance Network conference in London on 23 May. For more information, click here