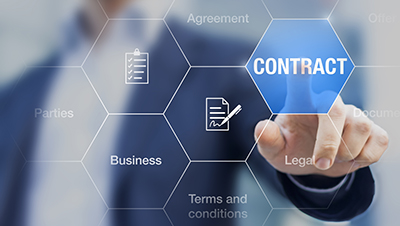 A detailed report has been published to help guide financial services companies through the key stages of buying agreement automation software to digitise customer onboarding.
The new guide, called Agreement Automation for Customer Onboarding RFP Guide, is aimed at financial services companies looking for technology that can automate the end-to-end customer agreement process, and comes with a template RFP in an excel spreadsheet containing best practice suggestions for questions to include to find the best providers.
To order your free copy of the report, complete the form at the bottom of this article.
Each year, an estimated $15 trillion in financial agreements are processed, the bulk of which still depend on manual or semi-manual processes. Finance providers report that these processes are slow, inefficient and prone to human error. For these reasons innovative providers are looking to the market for technology platforms which can automate the agreement process as part of customer onboarding.
As well as concerns about speed and efficiency, experts have also warned that dis-jointed semi-manual processes may also lead to legally unenforceable agreements; as these processes don't collect evidence to prove that compliant procedures have been adhered to.
At last year's International Auto Finance Network conference, Joanne Davis, head of asset and consumer finance at Locke Lord, warned that 'evidencing' (or a lack of evidence) could become a major source of legal claims in the UK mirroring the multi-billion-pound Payment Protection Insurance crisis), unless there is particular care from the industry. 'We do really need to take this seriously and we do need to be working on getting this right", she added.
Regtech, the use of technology to facilitate the delivery of regulatory requirements, is a powerful ally for finance companies, as it speeds up processes while also providing a consistently high level of oversite to ensure finance companies remain compliant.
The guide released by Invigors contains a section on 'Compliance, Agreement Enforceability & Evidence Management'. By asking questions about compliance and evidence collection finance providers can ensure that any platform they purchase fully addresses the issues of compliance and agreement enforceability by ensuring that compliant procedures are followed and evidence is collected to prove the entire customer journey from end to end.
"Digitising the agreement process allows financial institutions to capture evidence throughout the process. This could be evidence of compliance, a customer's identity, or their intent to be bound by an agreement"- Agreement Automation for Customer Onboarding RFP Guide, Invigors, 2018.
As well as a section on compliance, the guide provides a checklist of questions to ask in an RFP process, covering business benefits, functionality, evidence management, integration, service levels, workflow, user experience and data security.
It contains a guide to the different stakeholders to involve in the tender process, as well as a comparison guide for technologies vs. end-to-end solutions. It also lists the functionality buyers need to consider - from application, through to ID verification, document generation, e-signature, tamper proofing and vaulting.
All in all, it is intended to assist organisations in determining their end-to-end automation requirements, building the business case and evaluating the opportunities for implementation.
The report states that: "today's customer is looking for speed, ease and convenience – whether online, through an intermediary, or in-branch.
"Innovative financial services companies looking to win new customers and increase loyalty are turning to technology to help improve the customer experience, without compromising on risk."
Finance providers who are looking to improve the customer experience with technology, whilst simultaneously addressing compliance and enforceability concerns, might find this guide a useful place to start.
The Agreement Automation for Customer Onboarding RFP Guide is available free of charge, courtesy of Dealflo.