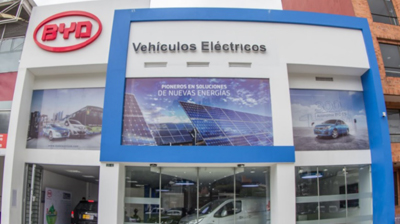 Colombian capital Bogotá has ordered 379 electric buses from electric vehicle specialist BYD.
They will be put to use on the city's Transmilenio bus rapid transit (BRT) system and are due to begin operation in 2020, starting in the neighbourhoods of Usme and Fontibón in the south and west of the city respectively.
Once operation begins, it will be largest electric bus fleet on the continent and among the biggest in the world.
A further 64 electric buses are in operation in Medellín, the country's second-largest city; BYD has also delivered 183 units to Santiago de Chile in August, which currently holds the record as South America's largest electric bus fleet.
BYD claimed the Bogota fleet would be 60% cheaper to run than conventional diesel buses and remove 21,900 tons of CO2 and 526 kilograms of PM 2.5 pollutant particles from the local atmosphere in its first year of operation.
María Consuelo Araujo, general manager of Transmilenio, said: "With the arrival of zero-emission electric buses, we fulfilled a dream… to give the city a better public transport service, with technology that's both state-of-the-art and user-friendly."