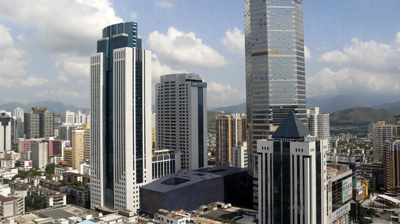 In four years, Shenzhen in China oversaw the creation of a fleet of 62,000 electric goods vehicles. As John Maslen reports, leasing played a crucial role, while the lessons learned during deployment will apply across the world as cities target a zero-emission future.
The Chinese city of Shenzhen has created a detailed blueprint for the mass adoption of electric vehicles after an initiative to record every detail of its own zero-emission journey.
The city of 12.5 million people, about 40 miles north of Hong Kong, has introduced policies that created one of the world's biggest electric goods vehicle communities; starting in 2015, it now totals more than 62,000 vans and light trucks.
Data from the initiative provides valuable guidance for other cities as they embark on the journey, particularly in terms of the role of suppliers, such as leasing companies, and strategies to avoid the 'pain points' the city experienced during its journey.
Its analysis shows that strategies for success focus on two areas – commercial and policy.
From a commercial perspective, the rapid growth in demand relied on strong model availability, with more than 45 brands providing a wide choice of electric urban vehicles that were affordable and accessible, with an acceptable range.
Typical EV distance per day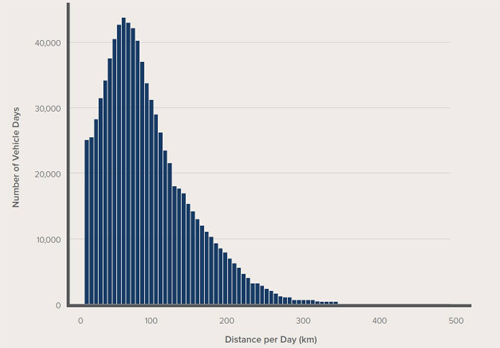 Source: RMI
Leasing companies proved to be a vital resource, as they could specialise in bundling the provision of vehicles, charging and maintenance to simplify the acquisition process and reduce perceived risks.
At times, leasing companies were even able to provide drivers for a flat monthly or annual fee.
From a policy perspective, several factors were vital to the rapid deployment of a large-scale EV fleet.
Firstly, consistent subsidies were essential, both for the purchase and operation of vehicles, so there was cost parity compared to internal combustion engined (ICE) competitors.
Secondly, the city banned ICE vehicles at certain times and imposed strict emission requirements on their use.
A final element was the rapid and large-scale deployment of an adequate recharging infrastructure.
From the start of the initiative in 2015 to the end of 2018, approximately 40,600 chargers were installed.
This was partly due to demand, but also reflected support from subsidies and mandates from local government to meet specific targets.
A final key element was electricity prices, which were kept low, while regulated service fees provided predictable revenue for suppliers.
A study by non-profit organisation the Rocky Mountain Institute examined complete driving records of more than 10,000 electric delivery vehicles in the city and carried out dozens of interviews with companies that sold, leased and operated the vehicles to obtain a deeper understanding of the issues Shenzhen faced.
It found that despite the rapid growth in the number of chargers, the expansion in demand challenged the city's ability to provide enough charging capacity.
Firstly, there was a mismatch between the location of demand for recharging and the location of much of the charging infrastructure.
Typically, demand was in central areas of the city, where vehicles were operating, but most chargers were in more suburban areas.
There was also a stronger preference than expected for fast charging because drivers found this most convenient. To meet demand, there would have to be significant investments in improving grid capacity.
Average duration of EV charging sessions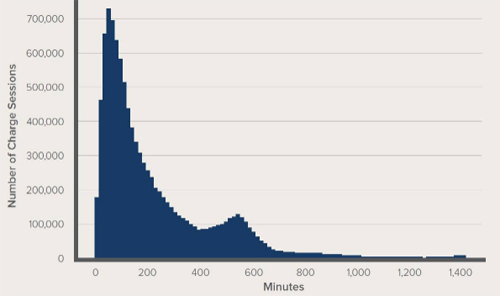 Source: RMI
Similarly, there was strong demand for daytime charging, which added to peak loads and increased the need for grid upgrades.
Demand was also centred around charging 'hot spots', so some experienced high use, with overcrowding and queuing, while others were unable to generate acceptable returns on investment.
Other problems included charging bays being taken by ICE vehicles and many chargers that either did not work or had restricted use.
For drivers, there was also no data on which chargers were occupied before they visited a station, while there were also difficulties making payments.
Researchers at the Rocky Mountain Institute recommended a portfolio of solutions for Shenzhen, and other cities, to minimise pain points.
These included:
Planning processes that incorporate data on the geography of charging demand into the planning process for charging station deployment
Pricing strategies that seek to influence the distribution of charging demand across time and location to create an efficient balance between driver convenience and cost to the grid
Colocation of ancillary services, such as restaurants and shops, that enable drivers to conveniently charge at times of low productivity in locations that are friendly to the grid
Updating of parking regulations to ensure that spaces equipped with chargers are not occupied by ICE vehicles
Adopting strategies to enable and incentivise slow charging at night
Creating a single portal with information about charger location and availability to enable drivers to select the most convenient charger
Introducing Vehicle to Grid technology to provide a more flexible electricity and recharging network
A spokesman for the institute said: "We believe a deeper understanding of Shenzhen's experience deploying electric urban delivery vehicles can be a guidepost for other cities across the world aiming for a cleaner, low-carbon future.
"Shenzhen's willingness to pioneer the electrification of urban logistics as well as document and share its experience creates a clear path for other cities to follow. This process will help other cities follow in the footsteps of Shenzhen, and even accelerate their own paths to significant deployment of electric vehicles."
Rocky Mountain Institute (RMI) is an independent non-profit founded in 1982 that works with businesses, communities, institutions, and entrepreneurs to accelerate the shift away from fossil fuels. It has offices in Basalt and Boulder, Colorado; New York City; the San Francisco Bay Area; Washington, D.C.; and Beijing.
A full copy of the report can be downloaded through this link.
* Allison Crow et al., A New EV Horizon: Insights from Shenzhen's Path to Global Leadership in Electric Logistics Vehicles, Rocky Mountain Institute, 2019.