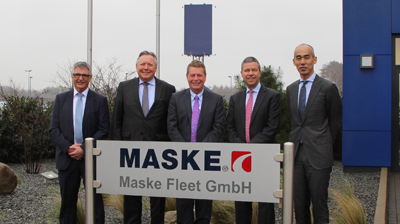 Hitachi Capital has expanded its fleet management service coverage in Europe with the acquisition of Maske Fleet.
Maske Fleet provides rental and fleet management services for cars and commercial vehicles in Austria and Germany.
It also has a presence in Denmark, which Hitachi Capital intends to use as an entry point for further expansion into the Nordic region.
In addition to the benefits of regional expansion from the acquisition, Maske will also be a valuable platform for developing provision of electric vehicles and vehicle-related mobility services in Europe.
The expansion adds to Hitachi Capital's existing vehicle management operations in the UK, Netherlands and Poland.
Germany has been a key strategic goal for business expansion, as it has seen long-term increases in registrations and leasing penetration.
Hitachi Capital executives said it will continue to expand its existing operations as well as its geographic presence and scale in Europe.
L-R:
Michael Busch – Managing Director & Member of the Management Board
Andreas Maske – Advisory Board Member
Simon Oliphant – Chairman of the Advisory Board
Nick Salkeld – Advisory Board Member
Yusuke Sakanoshita - Member of the Management Board