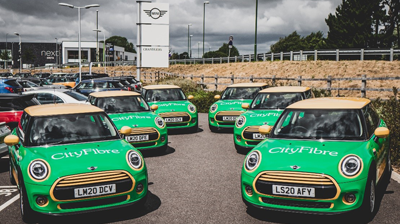 Business mobility services provider Alphabet has announced the provision of a series of vehicles to the digital infrastructure platform CityFibre to fuel the growth of the company's full fibre networks with gigabit speeds.
With full fibre networks currently in place in more than 60 towns and cities in the UK, CityFibre has dedicated a number of teams out in the field, meaning the running of a fleet is now a key part of its business.
As the company grows, it was keen to fully outsource its fleet management and were seeking a partner to provide guidance and consultancy with a flexible mobility solution that could enable its field teams to attend site builds and events in a branded vehicle to generate excitement for local communities about the benefits of full fibre.
Meeting the demand, Alphabet is providing an initial fleet of six branded Mini Coopers and seven Ford Transit Custom vans in six locations across the UK. Delivered on full business contract hire including maintenance and accident management, the Mini's will be delivered via Alphabet's AlphaCity service which enables employees to book and access vehicles through an online system, utilising keyless entry.
As the majority of journeys that CityFibre's employees take will only be around the city and are likely to take just a few minutes, the vehicles are set to be shared amongst multiple employees, meaning the company can avoid paying for unused, idle vehicles.
Chris Stening, consumer director at CityFibre, said: "Our in-field employees need to travel around the cities they're based in quickly and easily, which is why we wanted to find the right partner to outsource our fleet management to. Alphabet was a great choice for us, as our brand values align so well, and they bring the experience in fleet that we were looking for to bolster our business successes."
With existing networks in more than 60 towns and cities across the UK, CityFibre provides wholesale connectivity to multiple business and consumer service providers, local authorities and mobile operators. Based in London, the company has a series of network rollouts underway with plans to pass up to 8 million homes and businesses with open-access full fibre infrastructure.
Following the launch, CityFibre and Alphabet are looking towards a long-term solution of a fully electrified fleet across the entire CityFibre business.
Daniel Broom, major corporate sales manager at Alphabet, added: "While life as we know it may have changed dramatically over the last few months, we've continued to work hard throughout this time to support our new and existing partners and keep businesses on the move. Providing a fully outsourced solution to CityFibre has been a great success during these challenging times and CityFibre's field-based teams are now taking advantage of the flexibility that comes with our AlphaCity service to safely navigate their cities."