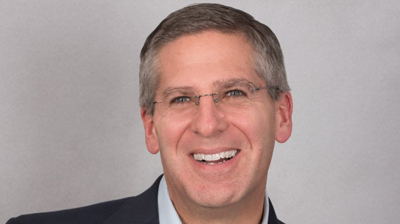 The impact of digitalisation on business has been highlighted as a key concern among industry leaders attending the World Economic Forum at Davos.
Among the issues being debated by government heads and the top executives of hundreds of the world's biggest companies is how to maximise the benefits of technology, including artificial intelligence (AI), and how to adapt to the changes it will bring to global business.
In a survey launched ahead of the event in Switzerland, consultancy PwC revealed the results of its global CEO survey, which showed 85% of business leaders believe AI will significantly change the way they do business in the next five years.
Nearly two-thirds of global CEOs see it as a bigger force for change than the internet.
However, in developing AI-based strategies, CEOs face a critical barrier to exploiting its potential benefits, as there is a growing talent gap between the skills companies need and those they currently have access to.
Daniel Hulme, CEO of Satalia, an AI solutions provider, said in a report on the survey results: "Many CEOs feel they need to bring AI into their organisation. There's this fear factor that if you're not on the AI bandwagon, then you're going to lose out to competitors that are going to be eating your market, because they're using technologies to make decisions faster and better than you.
"They may ask the chief information officer, 'What are we doing in AI?' And the CIO will then hire or try to hire data scientists, whose work represents a kind of proxy for AI.
"But data scientists only have a certain type of skill. They understand how to use statistics and machine learning to find patterns in data. They're not necessarily good at building production-grade systems that can make decisions or that can adapt themselves."
Instead, a company-wide strategy needs to be introduced to develop new talents that are fit for the new digital age.
Developing an AI strategy for business
PwC has identified six AI priorities for businesses to focus on in 2019.
The priorities centre around adapting business structure, training the workforce, identifying opportunities for monetisation, sourcing data, combining AI with other technology and maximising security.
The potential benefits of successfully developing a fully digital infrastructure are vast, as it could contribute up to $15.7 trillion to the global economy by 2030.
But PwC argues that many business leaders don't know how to deploy AI to create maximum value, as they tend to focus on small scale pilots.
Research by PwC found that nearly a quarter of CEOs have no plans to pursue AI 'at the moment'. A further 35% 'have plans in the next three years'. And another 33% have only dipped a toe into AI for 'limited uses'.
On a global basis, fewer than one in 10 CEOs have implemented AI 'on a wide scale', with the highest adoption rates in regions that are further along the digitalisation curve — Asia-Pacific, North America, and Western Europe.
The consultancy believes AI adoption will accelerate in 2019, reshaping some businesses and leaving others severely exposed through lack of development.
Natarajan Chandrasekaran, chairman of Tata Sons, one of the largest businesses in south Asia, said in the report: "We have been talking about artificial intelligence since the 1980s. Nothing happened; it didn't affect business. Suddenly, cloud computing has made possible the real-time collection of infinite amounts of data. This opens up the possibilities for AI.
"Robots were also made in the '80s. But why are we talking about them now in new ways? Because today, the robot is also connected to the cloud. Suddenly, the memory, analytic capability, and data set available to the robot is infinite."
He added that the Internet of Things interacts with both of these technologies, as a chip or a sensor in a system will collect even more data, in huge volumes, on a real-time basis.
Chandrasekaran added: "As that comes in, my ability to do analytics expands. We are now moving into the world of anticipative computing. We're not only gathering data in real time, but also anticipating the data to come. You can tell what's likely to happen in the next 30 seconds. And if you can predict it in that time, that's all the time you need to prevent it or make use of it."
Helping employees adapt to a digital future
What CEOs overwhelmingly 'agree' is that AI-based decisions need to be explainable in order to be trusted. Once this trust is embedded, the transition will be rapid.
Recent analysis of OECD data covering 200,000 jobs in 29 countries breaks AI's job displacement effect into three waves: algorithmic (until early 2020s), augmentation (to late 2020s), and autonomy (to mid-2030s).
The first wave will impact relatively few jobs - perhaps 3%, but by the mid-2030s, up to 30% of jobs could be automated, mostly those involving clerical and manual tasks.
Bob Moritz, PwC global chairman, said: "To help unlock internal growth potential in their organisations, chief executives are paying close attention to emerging digital technologies such as AI.
"We have heard much in recent years about the potential downstream benefits to business and society alike of successfully applying these emerging technologies.
"This year, there is more nuance in the discussion. Concerns are rising about technology and leaders are learning how to leverage advanced technologies in responsible and sustainable ways, with an ever more critical eye on matters such as cybersecurity and privacy, data ownership and integrity."
This reflects the theme of the meeting in Davos, which is 'Globalisation 4.0: Shaping a Global Architecture in the Age of the Fourth Industrial Revolution'.
He argues that as CEOs focus more on execution in the search for revenue growth, helping society to adapt to the changing jobs market.
Moritz added: "People are the main success factor in digital transformation projects, and many organisations are providing digital skills training today to prepare their people for the future. But to move beyond successful implementation to true innovation, business leaders should continue to upskill their current and future workforce as well as cultivate soft skills such as creativity, problem solving and empathy in their corporate cultures."