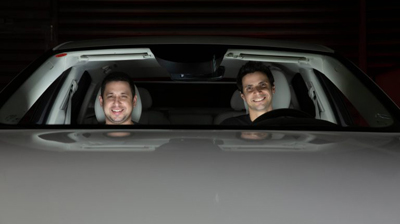 A company that uses artificial intelligence to provide a full vehicle inspection in as little as four seconds aims to revolutionise fleet management.
UVeye, a startup with offices in the US and Israel, originally developed a system for bomb-detection before adapting the system to inspect cars for defects and problems.
The company, which employs around 100 people, provides its vehicle inspection service through three systems, with Atlas and Helios assessing every area of the vehicle's body, including the underbody, while Artemis monitors tyre condition.
The technology uses cameras, sensors, and artificial intelligence to assess the condition of each vehicle.
The company, which reports raising more than $35 million investment capital, says it is working with manufacturers including Daimler, Toyota, Volvo and Skoda, part of the VW Group, on developing systems for fast vehicle checks in assembly lines, shipping areas and dealerships.
Ohad Hever (pictured left), COO of UVeye, said: "We decided on a task that we knew was difficult, creating vehicle inspection systems led by AI without physical human involvement."
The company found there was ready-made demand in the security market for a fast, efficient and accurate way to monitor vehicles for threats.
He added: "Requests for demos and installations came from all over the world, from Africa through Eastern Europe to Asia. We had a quick product-market fit but knew that we could also take this to the automotive world.
"We have initiated projects in the automotive industry throughout the whole lifecycle of the vehicle, providing inspections that can detect oil leaks, dents, scratches and rust."
He says its AI-based technology can adapt to its working environment to identify any anomalies, ranging from hidden explosives to scratches as small as 2mm.
A battery of cameras can scan a whole vehicle, even while it is moving. This could benefit a range of sectors, such as the vehicle leasing market, which defleets millions of vehicles annually, with each one needing to be inspected for damage that might require recharges or repairs before sale. Other businesses that would benefit from automation include end-user fleets and vehicle auctions.
The company is now looking at how its systems could help the future development of autonomous vehicles.
For example, vehicles could return themselves to base for a drive-through check-up on a regular basis to identify safety and service issues.
UVeye's chief executive officer Amir Hever (pictured right) said: "Today vehicles are used on average only 5-7% of the time and parked for the rest of the time, but autonomous, shared fleets and smart public transportation could drive around smart cities 50-90% of the time. Instead of taking your vehicle to the mechanic, the car may be able to simply drive itself to an automatic vehicle inspection site."