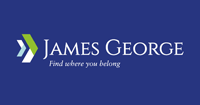 £30,000-£40,000 basic plus car with OTE £80,000+.
James George Recruitment have partnered with a leading Asset Finance Brokerage that is looking to strengthen their Asset Finance division. Having performed very well during the pandemic, they are using the success that they had with the CIBLS product as a solid platform, focusing on hard and soft assets, with their route to market being either via Vendors or Direct.
We are looking for Business Development professionals who have at least 12 months' sales experience gained within the asset finance industry, who feel that they could start placing new business quickly. Our Client has an enviable panel of Funders allowing you to place deals with Tier 1, Tier 2 and Tier 3 Finders so there wouldn't be many deals that you would need to walk away from.
Experience gained at another Asset Finance Brokerage would be particularly useful and location can be fairly flexible. Your earning potential will be uncapped but a sensible £80,000 is realistic.
Please contact Adam Sommerville on 0204 539 9054 Adam.sommerville@jgrecruitment.com or Victoria Rua on 0204 539 9189 Victoria.rua@jgrecruitment.com if you would like to have a discreet and confidential conversation about this opportunity.