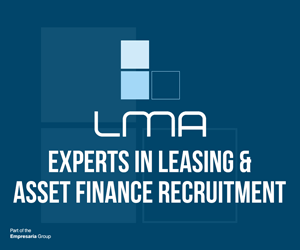 Competitive basic salary plus car allowance and excellent commission.
LMA Recruitment have partnered with 3 highly respected Asset Finance Brokerages that are looking to add additional Business Development Managers to their Direct Sales teams. These entrepreneurial Brokerages appear to be pushing forward with their Sales recruitment in this quieter market ahead of many of the Funders.
You will be directly contacting SMEs that are looking to acquire a variety of hard/soft assets via finance to discuss their requirements and then introducing these deals to their extensive Funding panel. All 3 of these businesses are established Brokerages with experienced Sales Support teams and panel of Tier 1, Tier 2 and Tier 3 Funders so there won't be many deals that you need to walk away from.
To be considered for these opportunities you will have at least 3 years' Asset Finance sales experience gained at a Brokerage or a Funder. You will also ideally have a customer base that will allow you to "hit the ground running". It may suit somebody who has been working as a self-employed Broker but perhaps doesn't have a wide enough panel of Funders to place deals with or perhaps candidates who are working for a Funder with quite a strict credit appetite.
In addition to the competitive basic salary quoted above, you will receive a car allowance, an excellent commission structure and a range of benefits.
Please contact Adam Sommerville on 0207 246 2635 for a discreet and confidential conversation about the role. Alternatively, please email adam.sommerville@lmarecruitment.com