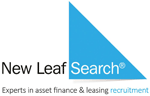 Excellent salary, plus bonus and benefits.​​​​​​​​​​​​​​​​​
​​​​​​​​​​​​​​​​​​​​​​​​​​​​​​​​​​​​​​​​​​​​​​​​K3161 - New Leaf Search has partnered with a leading provider of Leasing and Commercial Finance/Asset Based Lending solutions in their search for a Business Development Director, Commercial Finance. You will be responsible for generating new business by seeking referrals and advising and selling Commercial Finance products and services to new prospects, with a view to realising long term profitability and customer satisfaction.
Salary: Excellent salary, bonus and benefits. Location: UK, London (Hybrid).
Job Reference:

K3161

Contract Type:

Permanent

Function:

Sales

Remote Working:

Hybrid

Consultant:

Katherine Amin

Contact phone:

+442037407222

Job Description :

​​​​​​​​​​​​​​​​​​​​​​​​​​​​​​​​​​​​​​​​​​​​​​​​​​​​​​​​​​​​​​​​​​​​K3161 - New Leaf Search has partnered with a leading provider of Leasing and Commercial Finance/Asset Based Lending solutions in their search for a Business Development Director, Commercial Finance. You will be responsible for generating new business by seeking referrals and advising and selling Commercial Finance products and services to new prospects, with a view to realising long term profitability and customer satisfaction.

Salary: Excellent salary, bonus and benefits. Location: UK, London (Hybrid).

KEY RESPONSIBILITIES:

Generate new business via referrals and identification of new prospects.

Realising long term profitability, and Key Business Introducer and Client satisfaction.

Focus on sustainable growth, balancing risk and reward, and growing the portfolio in line with Return on Equity targets and growth strategy.

Building the brand in the UK.

Energetically cross sell other services.

Maintain formal and informal contacts with a variety of stakeholders throughout the organisation and represent the business in dealings with influential organisations within the field.

Analyse and assess quality of the prospect, what is and is not possible with regards to the prospect, the position of the company in relation to developments within the industry, etc, the risks and the securities to be provided by the client, all within the parameters of the current credit policy, the operational processing opportunities and the rates to be realised.

Act as a strong first line of defence, which is demonstrated in the quality of the credit proposals submitted.

Ensure compliance with all Licence to Operate measures.

PERSON SPECIFICATION:

Ideally degree educated or equivalent work experience gathered.

At least 4 years of working experience in a commercial finance environment.

Extensive knowledge of commercial finance/ABL market, products & activities, and underwriting requirements.

Strong network and ability to generate business – notably Advisory and PE.

High level of understanding of country & regulatory ethics and rules.

Knowledge of Compliance topics and processes.

Proven ability to successfully deliver sustainable financial performance.

View on developments in the financial industry and the ability to relate this to the CF activities of the business.

Credibility and gravitas to represent the business in a professional way to internal and external stakeholders.

We strongly favour applicants with proven, relevant experience in Financial Services; particularly in Asset Finance and Leasing.

Applicants will only be considered with relevant in-country experience.

Contact :