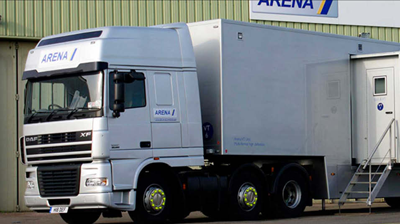 The Serious Fraud Office (SFO) has announced a criminal investigation into Arena Television Limited (Arena TV), which collapsed into insolvency last year, raising concerns about some £282 million of funds provided by asset finance lenders for equipment hired out by the company.
The SFO said it was looking into the business practices of individuals associated with the outside broadcasting specialist and its linked entities, and had recently searched three sites with support from the National Crime Agency. Two individuals have been arrested and are being questioned.
Arena was set up in 1988 by Richard Yeowart and provided outside broadcast equipment for a range of high-profile sports and other events, including the European football championship and Glastonbury Festival. It also had an associated aviation business supplying aircraft.
It went into insolvency in November 2021, with the administration being handled by Kroll Advisory, following a sudden announcement from Yeowart that the company would no longer be trading. Since then the whereabouts of Yeowart and fellow marketing director Robert Hopkinson have been unknown.
Assets shortfall
According to an initial report from Kroll, filed with Companies House, the decision to cease operations occurred shortly after an agent undertaking an asset verification exercise on behalf of one of Arena TV's lenders tried to verify a serial number with the equipment manufacturer, but was advised no such serial number existed.
Kroll's preliminary assessment suggested Arena TV had equipment finance liabilities of around £282 million owed to 55 asset-based lenders. The report stated: "Following a detailed review of the broadcast assets ….it is evident that the group does not hold the vast majority of assets purportedly acquired by lenders from certain suppliers and subsequently acquired …on hire purchase or finance leases from lenders. There is a shortfall of several thousand assets."
According to the information included in Kroll's report, amongst those listed as unsecured creditors are Shawbrook Bank, with some £34 million outstanding; alongside HSBC (£29.5 million); Lombard (£24 million); Close Brothers (£16 million); PEAC (£12 million); Investec Asset Finance (£10 million); Paragon (£9.6 million) and a number of other well known asset finance specialists.
The Kroll report states that nine of Arena's lenders have verified assets to support their lending, but the remaining 46 others, owed a total of £182 million, "do not have recourse to any assets". The aviation business is listed as having no assets "due to the lease companies looking to collect the various aircraft."
Online auction
Capital asset valuation company Hickman Shearer and CA Global Partners are currently hosting an online auction of over 3,000 pieces of outside broadcast and TV production equipment on behalf of the administrators. Items on offer include outside broadcast trucks and trailers, cables, cameras, sound and vision desks, and audio equipment.
According to the SFO's statement, the recent searches and arrests form part of wider investigative activity being undertaken by the SFO in relation to Arena TV, but the agency said that as this is an ongoing investigation, no further comment or information can be provided at this time.