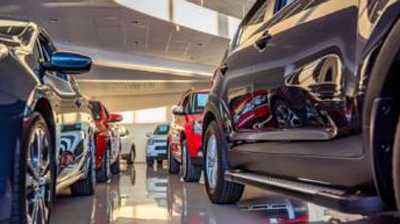 Used car finance continued to drive the UK vehicle finance market in April, according to new figures released by the Finance & Leasing Association.
While new business in the point of sale (POS) consumer new car finance market fell 2% by value and 7% by volume in April, compared to the same month in 2018, demand in the used car market grew 4% by value and 1% by volume over the same period.
The value of advances for new cars was £1,603 million, compared to £1,632 million in the used car market.
Geraldine Kilkelly, head of research and chief economist at the FLA, said: "Trends in the POS consumer new car finance market continued to reflect private new car sales. Subdued consumer confidence has also contributed to a slowdown in the POS consumer used car finance market in recent months. However, new business volumes overall in the first four months of 2019 held steady compared with the same period in 2018."
The percentage of private new car sales financed by FLA members through the POS was 91% in the 12 months to April 2019.
Demand for new and used auto finance at point of sale (UK): 2010 - 2019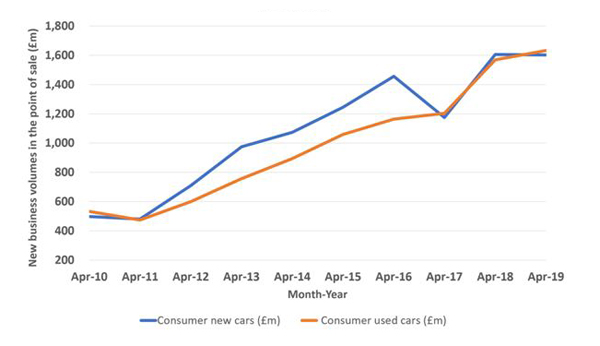 Cars bought on finance by consumers through dealerships
New business
April 2019

% change on

Prev yr

3 mths to

April 2019

% change on

prev yr

12 mths to

April 2019

% change on

Prev yr

New cars

Value of advances (£m)

1,603
-2
5,849
-2
19,386
+1
Number of cars
76,042
-7
285,590
-5
948,203
-2
Used cars
Value of advances (£m)
1,632
+4
4,768
+7
17,970
+9
Number of cars
134,073
+1
388,639
+2
471,512
+4
Total cars
Value of advances (£m)
3,236
+1
10,617
+2
37,356
+5
Number of cars
210,115
-2
674,229
-1
2,419,715
+2