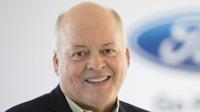 Ford Motor Company has named Jim Hackett as its new president and CEO as part of a series of key global leadership changes.
Hackett, 62, has a long track record of innovation and business success as CEO of Steelcase, interim athletic director at the University of Michigan and executive chairman of Ford Smart Mobility since March 2016.
Hackett will report to executive chairman Bill Ford, leading the manufacturer's worldwide operations and 202,000 employees.
He succeeds Mark Fields, who has elected to retire from Ford after a successful 28-year career with the company.
Fields was praised by Ford for his strong leadership that was critical to the brand's North American restructuring, its turnaround at the end of the last decade and record profits in the past two years.
Bill Ford added: "We're moving from a position of strength to transform Ford for the future.
"Jim Hackett is the right CEO to lead Ford during this transformative period for the auto industry and the broader mobility space.
"He's a true visionary who brings a unique, human-centered leadership approach to our culture, products and services that will unlock the potential of our people and our business."
Hackett, together with Bill Ford, will focus on three priorities:
Operational initiatives across the global business to further enhance quality, go-to-market strategy and product launches, while addressing underperforming parts of the business
Modernizing Ford's business by driving innovation, speeding up decision making and improving efficiency. This includes increasingly leveraging big data, artificial intelligence, advanced robotics, 3D printing and more
Transforming the company to meet future challenges, ensuring Ford has the right culture, talent, strategic processes and nimbleness to succeed as society's needs and consumer behavior change over time
Ford also announced a new structure for its operations and named three new leaders reporting to Hackett.
Jim Farley is appointed executive vice president and president for global markets.
In this role, Farley will oversee Ford's business units in the Americas; Europe, Middle East & Africa and Asia Pacific. In addition, Farley will oversee Lincoln Motor Company and global marketing sales and service.
Farley has served as executive vice president and president, Ford of Europe, Middle East and Africa since January 2015. Farley will also oversee the strategy and business model development for electrified vehicles and autonomous vehicles.
Joe Hinrichs is appointed executive vice president and president, global operations. In this role, Hinrichs will oversee Ford's global product development; manufacturing and labor affairs; quality; purchasing; and sustainability, environmental and safety engineering.
Hinrichs has been serving as Ford executive vice president and president, for the Americas since December 2012.
Marcy Klevorn is appointed executive vice president and president, Mobility.
In this role, Klevorn will oversee Ford Smart Mobility, which was formed last year to accelerate the company's plans to design, build, grow and invest in emerging mobility services, as well as information technology and global data, insight and analytics.
Klevorn has served as group vice president, information technology and chief information officer since January 2017.
All three appointments are effective June 1. New leaders to succeed Hinrichs, Farley and Klevorn will be the subject of a future announcement.
Ford added: "We are fortunate to have three dynamic and talented leaders in Jim Farley, Joe Hinrichs and Marcy Klevorn taking on greater responsibility.
"Each has a track record of driving innovation, cost efficiency and delivering results around the world. They will work closely with Jim Hackett to lead Ford's day-to-day operations, build our brand and capitalize on emerging opportunities."
In addition, Ford has appointed Mark Truby as vice president, communications, effective immediately, reporting to Bill Ford.
Truby has previously led Ford's communications teams in Asia Pacific and Europe, Middle East & Africa. Truby succeeds Ray Day, who plans to retire from the company next year and will provide consulting services until then.
Ford also elected Paul Ballew as global chief data and analytics officer, reporting to Klevorn.
Ballew has been leading Ford's global data and analytics teams since December 2014, including development of new capabilities supporting connectivity and smart mobility.