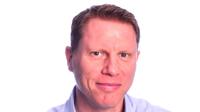 Automotive data expert cap hpi has promoted James Pass to the role of head of finance (sales).
Pass originally joined the business in 2013 as a key account manager, having spent seven years in the banking sector.
In his new role, he will lead the finance sector team and assist with the continued expansion of the business. He will report directly to John Dennis, UK sales director.
Dennis said: "James has been a key player in the recent success of the business, playing a pivotal strategic role in securing major client relationships and displaying real leadership qualities, helping to underpin cap hpi's finance sector data solution capabilities.
"This promotion is richly deserved and further evidence of how we continue to retain and invest in our team and the best people the sector has to offer, which is of the greatest benefit to our clients and customers."
Cap hpi provides data and software solutions that cover every aspect of the vehicle lifecycle, including valuation, repair and total cost of ownership, operating from an international hub in the UK.
It is part of Solera, a global provider of risk and asset management software and services to the automotive and property marketplace, which operates in more than 85 countries.