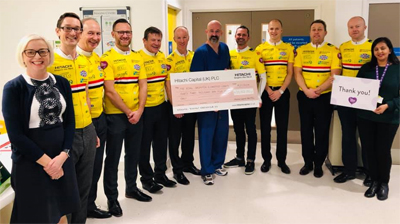 Charities will benefit from donations worth thousands of pounds following initiatives from D&D Leasing and Hitachi Capital.
D&D Leasing, the multinational equipment and loan provider, is supporting humanitarian organisation WE by setting aside a proportion of the monthly income from every finance contract it funds or originates, throughout the life of the contract.
Funds raised will support WE's programme in Kalinjar, India, to improve access to education, clean water, healthcare, food and income opportunities.
Rev. Dr. K. Bill Dost, CEO, D&D Leasing, said: "Through WE, our funds will go to a place that really and truly needs and requires that help.
"While the amounts start off small, over time and with the compound effect, our donations will have lasting impact for this community."
In September 2018, Bill Dost was named Personality of the Year: Equipment Finance at the International Asset Finance Network conference and awards in London.
At Hitachi Capital, its cycling squad, Team Hitachi400, raised £33,000 for The Royal Brompton and Harefield Hospital charity during a four-day cycle ride from the UK to France.
The 14-man team cycled 400 miles earlier this year to raise funds for the hospital, which was chosen after its transplant team performed pioneering life-saving surgery on Hitachi employee Vanessa Tedbury.
The cheque was presented to the director of transplantation Andre Simon and other members of the hospital charity team (pictured).
Gavin Wraith-Carter, managing director at Hitachi Capital Business Finance, said: "The team's desire to raise money was inspired by Vanessa's story and we hope our fundraising can also support others in the community.
"Royal Brompton and Harefield Hospital will always be close to our hearts at Hitachi Capital and we hope to continually support the great work they do in the future."