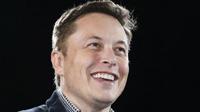 One month after launching a leasing programme for his Tesla Model S and Model X cars, Tesla's boss, Elon Musk, has established a space programme – with Mars in its sights
In recent years Musk has become one of the US' best-known disruptors. He was a founder of payments company PayPal, electric carmaker Tesla Motors - and now SpaceX, maker and launcher of rockets and spacecraft.
Last week Musk, as SpaceX chief, revealed ambitious plans to establish a Mars colony "by sending 100 humans at a time on massive spacecraft", possibly costing as low as $100,000 per person.
The 45-year-old South Africa-born entrepreneur has channeled a dot-com fortune into a series of ambitious ventures. Besides being the head of SpaceX and Tesla, Musk is the chairman of SolarCity, a solar panel installer that has agreed recently to be bought by Tesla.
He also operates his own foundation focusing on education, clean energy and child health.
Musk lives in Los Angeles and holds US, Canadian and South African citizenship.He moved to Canada in his late teens and then to the United States, attaining bachelor's degrees in physics and business from the University of Pennsylvania.
After graduating, Musk abandoned plans to pursue further studies at Stanford University and started Zip2, a company that made online publishing software for the media industry.
He banked his first millions before the age of 30 when he sold Zip2 to US computer maker Compaq for more than $300 million in 1999.
Musk's next company, X.com, eventually merged with PayPal, the online payments firm bought by Internet auction giant eBay for $1.5 billion in 2002.
Forbes estimates Musk's current net worth at $11.7 billion
In 2002, Musk launched SpaceX, or Space Exploration Technologies Corp., where he serves as chief executive and chief technology officer, with plans to develop low-cost rockets.
Musk invested $100 million of his personal fortune in SpaceX.
Closer to earth, Musk in 2004 launched Tesla Motors, with the aim of popularizing electric vehicles.
Tesla is also building a massive "Gigafactory" to crank out lithium-ion batteries in Nevada as part of a plan to produce more electric cars at lower price points.
'Hyperloop' dreams
Musk openly released a design for a super-fast transport system dubbed "Hyperloop" which could carry passengers in low-pressure tubes at near-supersonic speeds.
The project could connect Los Angeles and San Francisco in 35 minutes and could be a low-cost alternative to a high-speed rail network planned for the western US state.
Musk has said he has no plans to build the system but offered the "open source design" for others to pursue a venture. A couple of startups have taken up the challenge.
Musk's called the system a cross between a "Concorde, a rail gun, and an air hockey table."
Jon Favreau, director of "Iron Man," calls Musk a modern-day "Renaissance man."
Tesla still making operating losses
Yet, despite all Musk's eclectic activities the fact remains that Tesla has posted an operating loss in 14 consecutive quarters and negative cash flow since early 2014. It is facing a cash crunch at a time when it seeks to purchase its money-losing sister company, SolarCity Corp.
Reuters reports that recently Musk told employees in an email to follow company policy of not offering discounts on new cars - responding to some investors' concerns about the practice.
In a Twitter message, Musk said "corrective action" had been taken on discounting of new vehicles, which "seems to be limited to a small number of cases."
Musk's email to employees was included last Wednesday in a response to comments on a Reddit posting of someone questioning the discount policy.
The Tesla boss said: "It is absolutely vital that we adhere to the no-negotiation and no-discount policy that has been true since we first started taking orders 10 years ago."
Musk said there could be discounts allowed to floor models, vehicles that had been used for testing or those that were damaged in delivery.
"However, there can never - and I mean never - be a discount on a new car coming out of the factory in pristine condition, where there is no underlying rationale," he said.
Musk was responding to a research note published on Tuesday by analyst Brad Erickson of Pacific Crest Securities that criticized Tesla for offering discounts on Model S sedan inventory cars, not those built-to-order for specific customers, to boost third-quarter sales.
"We found Tesla has been employing a deeper discounting formula to drive sales of inventory models, with all offers expiring this Friday, the last day of the quarter," Erikson wrote.
Erickson said he "detected aggressive Model S discounting at US sales centers to maximize third-quarter deliveries."
Deliveries for the quarter will be about 22,000, said Erickson, up 90% from a year earlier.
Mike Ramsey, automotive analyst with Gartner Inc., said discounts on Model S vehicles have been few, and that it was "inevitable" that the car, which debuted in 2012 and often sells at $100,000, would eventually be discounted.
"There isn't unlimited demand for $100,000 vehicles," he said, although he noted that Musk is adamant about no routine discounts for both customers and employees.
Musk said in the email that the current quarter "is likely to be the best ever in Tesla history."
The average September US new-vehicle discount industrywide is about $3,900, the highest since December 2009, J.D. Power revealed last week.