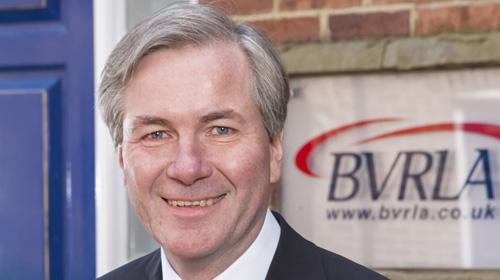 Sponsored by CBC Resourcing Solutions.
The Chancellor of the Exchequer delivered some extremely welcome news to UK motorists in his 2013 Autumn Statement.
After a decade-long campaign by the British Vehicle Rental and Leasing Association (BVRLA) the government agreed to abolish the vehicle tax disc with effect from October 2014.
The news was a good result for the BVRLA, and testimony to the growing influence of the association of which Keaney assumed leadership some five months earlier.
Red Tape Challenge
The news, which came together with other government concessions to the automotive industry, led the BVRLA's chief executive Gerry Keaney to remark: "It is great that the Red Tape Challenge we participated in is bringing results. We estimate that removing this pointless piece of paper will save the government around £3m per year – and save UK fleet operators around £10m as well."
It was indeed a good result for the BVRLA, and a distinct sign of the growing influence of the association of which Keaney assumed leadership some five months earlier.
In fact news of his appointment - a candidate with no apparent direct experience of leasing or vehicle finance - may have raised some eyebrows in an industry known for its in-house clubbable tendencies. However, a brief examination of Keaney's track record to date confirms that his latest appointment complements his extremely broad-based range of career specialisms.
An early interest in cars
Born in St Helens, Lancashire, Keaney was 11 years of age when the family moved to Rugby where he attended school – albeit not at the Independent responsible for the grassroots of the rugby football world. At the age of 18 he enrolled at North Staffs Polytechnic where he achieved a Business Studies Degree. "Even at this stage," he said, "I had absolutely no idea what I wanted to do as a career, although growing up in Rugby there was a natural opportunity to be working in the British car industry – and I have always been interested in cars."
Consequently his first jobs after graduating were at Jaguar at Coventry and Land Rover in Solihull. He achieved his chartered accountancy qualifications in some 12 months rather than the normal three-year period during this time: "and at the same time," he laughed, "I got married."
Seeking experience at a smaller company in 1982 he joined Rockwell GB, the UK subsidiary of Rockwell International, the US truck axle manufacturer, as head of financial analysis and reporting. "Here, I felt I could really get my head round the industry. I gained some very good training and excellent experience including time in the US."
In 1986 Keaney joined Coopers and Lybrand as a management consultant. He explained: "I was looking for more variety – in both technical work and different industries in the UK and overseas. We had many interesting customers and I took part in a number of exciting and strategic projects. Latterly I was promoted to practice leader in the Thames Valley."
Joining Volvo
In 1990 he joined Volvo Concessionaires as a network representation manager. "It was a time of great expansion for the Volvo brand and the UK market was the second largest market for the vehicles after the US. In 1992 Volvo Cars acquired the importership from Lex Service and I was appointed sales director for Volvo UK. In 1996 I was promoted UK chief executive."
Later he became regional president for Beneluk (Belgium, Luxembourg, Netherlands, Ireland and the UK) at Volvo Cars – the manufacturer's largest region outside North America and soon to become the most profitable in the group.
Here Keaney was tasked with determining the sales and marketing strategy for the region and implementing it. "Volvo had traditionally de-centralised its organisation to fit with different markets," he explained. "However there was now a need to project one brand image throughout the region with an optimized budget. To achieve this required a lot of effort and focus – and I found it extremely motivating to be empowered with a high degree of trust by the Volvo Board."
A move to Sweden
In 2002, with Volvo now part of Ford's Premier Automotive Group, he moved to Gothenburg, Sweden, working with Hans-Olov Ollson, Volvo's CEO, as senior vice president for marketing, sales and service. He was also appointed a member of the Volvo Car Corporation management board.
"By 2011 I had been out of the UK for a long time," he told Asset Finance International. "It was time to do something different – but not with another car manufacturer. Although I had not had direct contact with the BVRLA previously I had firm opinions about the vehicle leasing sector especially since my involvement with the formation of Volvo's Financial Services unit."
At the time of his appointment, BVRLA chairman, Neil Cunningham, stressed: "We are proud to have attracted a senior executive with such a wealth of experience."
He took over in May 2013 from John Lewis who had been chief executive in situ for 13 years and who would assume a new part-time role as the BVRLA's director of external affairs.
Setting the pace at BVRLA
Keaney saw his initial task as being to meet as many members as quickly as possible. As good as his word, in the first six months he visited around 70 member organisations at their premises "to listen to them, learn what they wanted from the association and to put faces to names". "It was crucial to do this," he said, "since we are a small association with only 16 staff our strength ultimately lays in our network of members, many of whom are extremely large players in the international fleet industry. We need a strong linkage to government – on both a local and national level."
He also believes that the BVRLA needs to establish productive links with other trade associations. "There will be occasions," he explained, "when we have exactly the same agenda as other associations and it will make sense to work together on a combined-strength basis. But there are also other times when the BVRLA has a unique message to get across and must act independently."
He added: "The vehicle leasing and rental industry is not well understood outside the sector - or within the UK government. It is crucial for us to get our voice across as customers and drivers of innovation in the automotive industry."
Nor does government fully appreciate the crucial part UK fleets are playing in the Green Agenda. A revolution has taken place in recent years regarding the CO2-emission constituent of company cars. Last December a BVRLA-assembled coalition of fleet representatives outlined a package of incentives and actions that will help the government kick-start the market for ultra-low emission vehicles.
Expert Groups in action
The BVRLA put together an Expert Group comprising of the Energy Saving Trust, the Association of Car Fleet Operators and a range of BVRLA rental, leasing and commercial vehicle members to give advice to the government's Office for Low Emission Vehicles (OLEV). OLEV has a £500m budget earmarked for growing the ultra-low emission vehicle market up to 2020, and is looking to get feedback from across the automotive sector about how to spend it.
Delegates said that vehicle manufacturers needed encouragement to put a more comprehensive package of measures behind their ultra-low emission vehicles to support early adopters and ensure that there is a healthy second-hand market for plug-in cars and vans.
The BVRLA is also working with local and national government in their attempts to reduce road transport emissions and encourage the uptake of ultra-low emission vehicles. "We recently took part in an Expert Group, put together by the BVRLA and Transport for London, on plans for a new Ultra Low Emission Zone in the capital," he said. "With our expertise and buying power our industry will play a key role in driving this change."
Keaney added: "Fleet take-up of ultra-low emission vehicles will be a marathon, not a sprint. But with their expertise and buying power, BVRLA members can play a key role in driving this change, provided the government creates the right policy and tax environment."
In another recent initiative, in anticipation of the Financial Conduct Authority (FCA) taking over regulation of the consumer credit industry in April 2014, Keaney spoke at a BVRLA event where association members (principally leasing brokers) were able to voice their concerns directly to the FCA.
Looking forward, the FCA has now agreed to work with the BVRLA on a number of typical scenarios with regards to leasing brokers and will provide re-assurance on how these will be treated in the new FCA regime.
Growing membership
Keaney is obviously relishing his ongoing role at BVRLA. He aims to "get a lot closer to members and to use our members more in our discussions with government". "Our industry is getting ever more regulated and more complicated for members to operate in. It is becoming ever more important to become an association member."
The BVRLA is also working in strategic areas. Soon the International Accounting Standards Board and the US Financial Accounting Standards Board will meet again in the seemingly never ending review of options for the main lessee and lessor accounting models within the proposed new global leasing standard. "We believe it shouldn't go ahead," Keaney said.
He added: "And we believe that lessors should not be precluded from claiming the 100% First Year Capital Allowances for low-emission leased cars that they lost in the 2013 Budget."
Keaney is also establishing a "thought-leadership platform" which aims to initiate research projects for the industry. As the sphere of work remit expands in terms of consultations, and the association increases its activities generally, he anticipates the staff headcount will expand to meet requirements.
Married, with three daughters in their twenties, Keaney remains a resolute Liverpool FC supporter who was instrumental in establishing a Supporters Club whilst at the Polytechnic. So resolute in fact, that while watching the recent match against Stoke City, which Liverpool won by five goals to three, he barely noticed getting "frozen cold and soaking wet".
Gerry Keaney is a determined man. He firmly predicts that 2014 will be a good year for the vehicle rental and leasing industry notwithstanding "some major challenges to overcome". He is a willing and able adopter of new technology, eager to come to grips in a creative way with European associations and forums, and passionate in pushing industry interests to the forefront. BVRLA members are lucky to have him as their chief executive – and he is clearly delighted to be their chief executive.