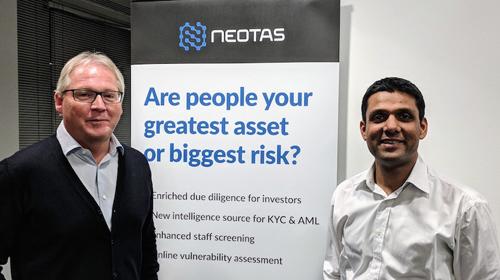 A fintech company's new platform could help finance providers to safeguard their investments with greater levels of insight into key individuals in companies that receive their funds.
Neotas alerts investors to cases of fraud and false identity or even incidents of inappropriate or suspicious behaviour on the part of CEOs or entrepreneurs.
The platform, which is operated by trained analysts, harvests digital trails to reveal an individual's true character, behaviour and networks, according to Neotas.
It is designed to be used alongside traditional due diligence methods to provide enriched intelligence to guide decision making.
The Neotas platform searches all open web sources, from international and legal records to media sites, social media platforms, online discussions and dark web sources. Only around 5% of this information could be found via a Google search, the company says.
The system has already been trialled by private equity firms.
In one case an individual was found to have multiple names and links to criminal networks, in another a senior appointment had a history of hard drug use and violence, while in a third case it revealed that the director of a start-up had significant undisclosed personal wealth but was vulnerable to fraud because his personal data was openly available online.
UK-based Neotas has been founded by Vipul Mishra, who was previously head of information security at a leading London-based hedge fund, and Ian Howard, who has more than 30 years' experience in finance and investment markets.
The team also includes experts in financial crime and investigations.
Howard said the service goes far beyond the scope of commercial, financial or management due diligence, but aims to complement, rather than replace, such services.
He said: "Private equity firms and other finance providers place great store on the people they invest in. However, often important decisions are made on the basis of a few face-to-face meetings and some limited background checks.
"In the digitally interconnected world, there is a wealth of information available that can provide a more comprehensive picture of an individual's true nature and background.
"Our service aims to bring due diligence into the modern age and provide enriched intelligence to allow investors to make more informed business decisions."
The Neotas platform can also be used for other purposes, such as compliance, along with screening for human resources departments.
Neotas has been selected by PricewaterhouseCoopers as one of a dozen fintech firms internationally to take part in its Scale FinTech programme to support fast-growing scale-ups.
Pictured: Neotas founders Ian Howard, left, and Vipul Mishra