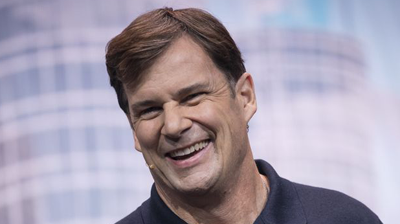 Ford has announced a six-year partnership with Google to boost its in-vehicle connectivity, cloud computing and overall technology capabilities.
The partnership is part of Ford's $11 billion turnaround plan to restructure underperforming businesses within its automotive operations. The company has streamlined its operations, focusing more on key growth areas such as autonomous, electric and connected technologies.
From 2023, all new Ford vehicles will be fitted with Android, the Google Assistant, Google Maps and Google Play. Furthermore, Google's cloud will enable additional services such as a system for sending customers messages about maintenance or trade-in opportunities, and the implementation of AI in supply chain logistics and manufacturing.
According to Ford, the deal is not exclusive, with both companies able to use other cloud services or existing Ford data centers. However, the development marks a significant milestone for the OEM, which has shoveled significant capital into the development of such systems in recent years.
Innovation through partnerships
According to Jim Farley (pictured above), chief executive officer of Ford, the deal is worth "hundreds of millions of dollars".
Speaking to CNBC, Farley explained: "One of the most important parts of our strategy is to partner. That means that we have to get out of the business of doing generic things that do not add value, like navigation systems and a lot of the in-car entertainment experience.
"We were spending hundreds and hundreds and hundreds of millions every year, keeping up with basically a generic experience that was not competitive to your cellphone."
Ford is not the only OEM to be partnering with tech companies. Back in 2019, General Motors announced a deal to integrate Google's voice assistant and app ecosystem into its vehicles in 2021.
Digitalisation and customer retention
According to JD Power, consumers prefer to use programs such as Google's Android Auto or Apple's CarPlay while driving instead of automakers' versions of the systems, as they provide a more familiar interface by mimicking phone apps. This represents a big step for Ford towards providing a more seamless ecosystem for customers and a better level of customer retention.
According to Farley, Ford specifically liked Google's cloud services, which signified an opportunity for automakers to update vehicles remotely, in a similar manner to how cellphone providers have been remotely updated for years.
Ford is planning to capitalize on the growing rate of customer retention seen with cellphone providers and services such as Amazon Prime. These services often become so integrated in people's lives that they remain with a certain brand or product. Ford is planning to use this technique, adding services such as predictive maintenance, apps and data utilization to regularly interact with customers after they purchase a vehicle.
Farley added: "It's a tremendous opportunity. Bigger than electrification. All the digital capability and conductivity and the digital ecosystem outside of the vehicle are all coming together to a loyalty model, where people will have a much more difficult time switching brands."
The impact for Google
Cloud computing also represents a significant opportunity for Google to expand its sources of revenue. For example, if the tech firm expands its operations in this business, it could rely less on advertising for revenue which took an 8% decrease in Q2 2020.
Google's competitors in the cloud computing sector, Amazon and Microsoft, held a 45% and 18% market share respectively in 2019, leaving Google with 5% according to estimates from technology industry research company Gartner.
Interestingly, Ford partnered with Microsoft's Azure cloud system in 2015 to deliver software updates to vehicles, and then with Amazon Web Services in 2019. Ford did not clarify which cloud services from Microsoft and Amazon would be replaced by Google.