Asset Finance International and Asset Finance Policy have launched the inaugural annual Asset Finance Europe 50 (AFE50) rankings survey.
The new AFE50, sponsored by Alfa, provides insights into the European business equipment and car leasing industry, whose 50 largest members make up a community with lease receivables of more than €277 billion.
The new report provides the first detailed analysis of this vital industry by lessor, by type of lessor and by country of ownership.
Uniquely, the AFE50 summarises the publicly available and audited accounting information of the largest providers of leasing in Europe.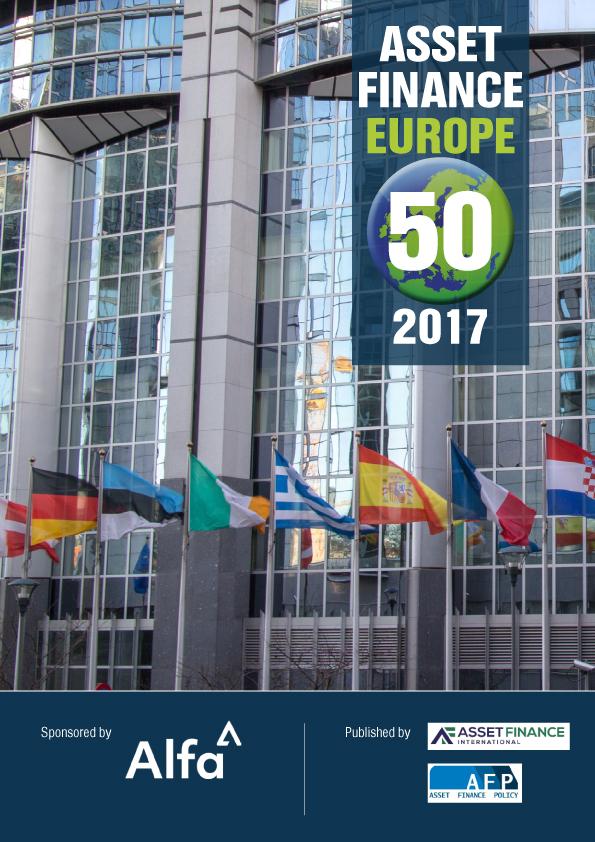 The AFE50 assesses the largest players across all sectors, with the 2017 survey (based on the latest published financial accounts, usually with December 2016 year-ends), showing total outstanding business lease finance from the top 50 firms of €277 billion.
Assuming an 80/20 rule, that suggests total industry-wide lending of around €350 billion.
The research reveals that between 2015 and 2016, the value of lease receivable assets on the books of AFE50 companies rose by €5.4 billion, with very strong performances by a handful of companies outweighing declines among other providers.
The report identifies Societe Generale as the largest AFE50 company, while bank-owned leasing companies account for the majority of lease receivables in the listing (70%), followed by auto captives (16%) and independents (7%).
The report also measures the share of lease receivables among the AFE50 by country of parent business head office, with France accounting for more than one quarter of the market, followed by Germany (17%), the Netherlands (15%) and the UK (10%).
In addition, the AFE50 contains analysis of the major asset finance companies by sector, with Scania identified as the largest captive, LeasePlan the largest independent, BMW the biggest auto captive and AerCap the largest rail/aviation company.
The 2017 listings were compiled in mid-2017 using the latest publicly available full-year data.
To provide feedback on the inaugural AFE50, please contact Asset Finance International by emailing johnmaslen@assetfinanceinternational.com