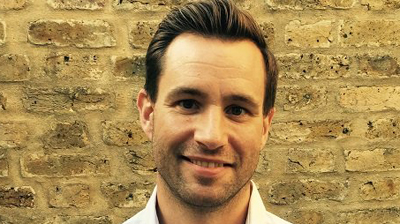 The subscription model is the largest trend in retail, offering a new way to source goods and services that gives customers the flexibility to switch to new products as their needs change. As more businesses, big and small, roll out a subscription offering, Wagonex chief executive officer Toby Kernon explains why it is the largest trend in retail.
Customers are dramatically rethinking their attitudes to ownership.
This change in approach is affecting every area of industry, from clothes to cars, as consumers favour paying for items during their use instead of buying goods outright.
Services such as Swedish-owned Klarna are popping up to offer customers different purchasing models when shopping online. Klarna has grown dramatically in the past few years and offers an interest free way for shoppers to spread their upfront payments across three, six, or up to 36 months. Klarna has raised more than $1.2 billion in funding since 2005.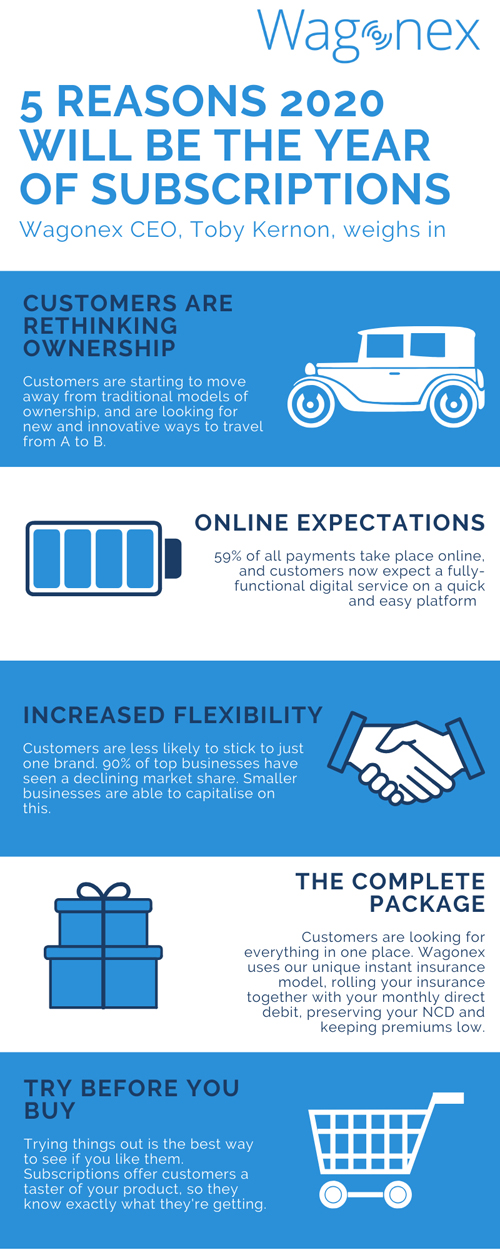 Online expectations
Furthermore, customers are much more likely to buy online in 2020, with 59% of all payments currently being made digitally.
Now that customers can order items online and have them delivered in a few hours, or buy a film and stream it immediately, they start to ask why they're limited for other products.
Growing exposure to online purchasing channels means they are increasingly trusted, so there is no need to physically view an item when there is access to detailed descriptions, pictures and independent reviews from other customers.
The same is true with buying cars. The recent launch of online car supermarket Cazoo suggests that customers don't need to physically drive, sit in, touch, or even see a car before they're ready to make a purchase.
Increased flexibility
This reflects a key trend in business, as customers are looking for easy access to goods and services, with the flexibility to access them at the touch of a button.
Subscriptions are the next stage in meeting this need, and demand is rising; 2020 will be a year of exponential growth in the market that will see nearly every industry exploring the possibilities and capabilities of this new business model.
It's not replacing traditional methods quite yet, but in 2030 I have a feeling we'll look back and say, "that's where it started". Subscription isn't just for Netflix or the gym anymore - it's coming faster than you might imagine.
Subscription products offer a complete package to customers, for a single monthly fee, offering maximum choice with minimal stress.
Take Wagonex, for example, where it takes fewer than 10 questions and a scan of your driving licence on a smartphone to use the service.
A monthly fee accesses the car itself and includes insurance, tax, breakdown cover and support whenever its needed, which just leaves fuel to be added. Simple as that.
An example of the benefits that this flexibility brings is electric cars. Customers are attracted by an environmentally friendly alternative to petrol and diesel models, and take out these cars on short subscriptions, treating our service as a 'try before you buy' offer.
Subscription services let customers use the car on their own terms over months, instead of a test drive of a few hours.
Customers want to know if they can charge the car in the rain, how long it takes to charge, or how the car sounds and feels to drive on a three or four-hour journey. These aren't questions easily answered in a 30-minute test drive around the block.
An average car lease is three years, but for modern millennials life can move fast, so a two-door city car gets rapidly outpaced when kids and dogs start coming along. By contrast, customers can subscribe to individual cars for as little as one to six months.
Delivering flexibility also drives loyalty. Subscription packages continue to perform well for customer loyalty. In the past year, Amazon's retail division (which has just launched a 'subscribe-and-save' service) topped the customer loyalty rankings. Netflix and Amazon's video streaming services also make the top 10.
Small business benefits
But while it's clear that subscription services are well received by users, what does this mean for smaller businesses, such as dealerships.
Many analysts argue that the 17 million 'Millennials' in the UK are squeezing modern dealerships as they 'don't buy cars'.
However, a recent study suggests they just don't want to buy cars outright. Millennials make up a quarter of the UK's population, and 'Generation Z' will soon make up an increasing proportion of consumers.
Businesses up and down the country need to consider how to future-proof their revenue streams with versatile new products designed to meet the needs of this new audience.
As online purchasing and flexible services become the norm, now is the time for small or medium-sized businesses to show how they can offer something a bit different, more tailored, and more flexible to customers through a subscription offering, which can drive growth and loyalty in 2020.
* Toby Kernon is chief executive officer of UK-based Wagonex, which offers cars on subscription through its manufacturer partners as an alternative to ownership or leasing, with flexible contracts offered between one month and two years.