A new peer-to-peer digital platform that describes itself as the 'Uber of the manufacturing equipment industry' is enabling businesses to offer their idle industrial machinery for rent to other companies.
McPond, based in Chicago, matches under-utilised equipment with companies that want to avoid the capital cost of acquiring their own assets but need access to machinery.
Its founders say that giving temporary access to industrial manufacturing equipment can cut investment costs or increase production for companies, while asset owners with equipment sitting idle can earn passive income by listing their machines for rent.
Founder Rigved Raut said: "Having had the opportunity to work in family-based manufacturing business for years, I realised that companies can make money from their idle machines.
"At the same time, we want to inspire companies and entrepreneurs who cannot justify or afford to invest in machinery."
McPond is a member of mHUB, a physical product innovation centre, and currently lists machines in US states including Ohio, Maryland, Florida, and Colorado. Machines vary from 3D Printers to industrial ovens.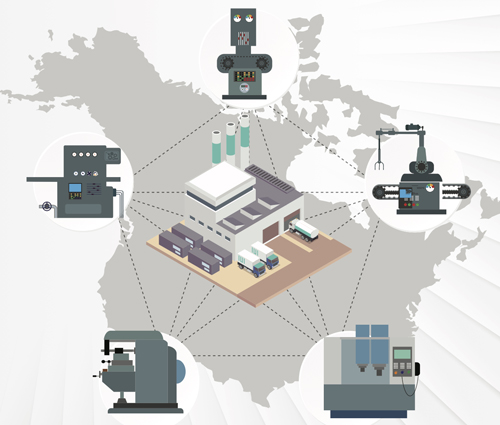 Co-founder Albert Burgos, who has 35 years in manufacturing industry, said: "Access over ownership is the trend of the future. Making redundant hardware useful in generating greater economic activity is advantageous to both producers and consumers.
"We want to build trust and make safety and care of the property our top priority in customer service."
The company compares its growth potential to Uber, the global ride hailing service.
Shared-use assets are an increasingly important part of the circular economy, which analysts predict will become a global market worth trillions of dollars.
This will see companies move away from the historic business model of 'take-make-waste' to a new business model, where the life of assets is extended through greater utilisation, reuse and recycling.
Global furniture giant Ikea has piloted a leasing service for kitchens and furniture as part of its focus on championing a circular economy and eliminating waste.
The pilot project in Switzerland is looking at ways for customers to 'buy, care for and pass on products' as part of its aim to become a fully circular business by 2030.
In 2018, Ikea also handled more than 1 million orders for spare parts to help repair products for a longer life.
At the International Asset Finance Network conference last year, industry experts argued that the linear economy is dying as the rise of the sharing economy will see much more intensive use of assets by multiple clients, enabled through innovations in software.
Carmen Ene, chief executive officer of 3 Step IT, which provides sustainable IT lifecycle management, said: "It is an enormous opportunity for the leasing industry to portray itself as the enabler of the circular economy, as the ones that make all these things possible on an underlying financing contract."
IT services and software company Tieto recently launched a whitepaper to look at the impact of the circular economy on asset finance.
Per Dahlqvist, head of business development and analytics products, credit solutions and services at Tieto, said: "The asset finance industry can play a vital role in these new ways of doing business, through funding and by supporting the processes that enable change."
To read more about the future growth of the circular economy, download your copy of 'Delivering a circular economy in asset finance' by completing the form below.