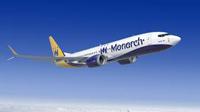 The collapse of the UK's Monarch Airlines has affected 14 aircraft lessors, its administrators have revealed.
The airline went into administration in the early hours of Monday morning, leading to thousands of cancelled flights and holidays for customers.
Monarch was operating a fleet of 35 aircraft, all owned by third-party lessors. In addition to the aircraft, the company also leased engines and landing gear.
The leased fleet will be returned to operating lessors, according to administrators KPMG.
The Monarch fleet is mainly made up of Airbus aircraft and, according to Airfinance Journal's Fleet Tracker, leasing providers include AerCap and Avalon.
Aercap declined to comment and a spokesman for Avalon was unavailable.
In June, Monarch finalised an agreement with BOC Aviation for 13 aircraft to be financed in a sale and leaseback transaction, in the latest deal in a relationship dating back more than 17 years.
A BOC Aviation spokesman said the company currently has no assets on lease to Monarch, that it had received security deposits on the aircraft and that the orders received would be placed with other lessees when completed.
Returning aircraft to lessors from Monarch's fleet is only part of a massive operation surrounding the company since its failure.
The affected businesses at Monarch Group include a scheduled airline and an in-house tour operator, which employed approximately 2,100 people, most of whom have been made redundant.
The airline, founded in 1968, flew to more than 40 destinations from five UK bases: London Gatwick, Birmingham, Manchester, Leeds-Bradford and Luton, where it was headquartered.
It offered six million sector seats to leisure destinations, while the tour operating division offered package holidays across the airline's scheduled network.
Around 110,000 customers were overseas when the company went into administration, while a further 750,000 future bookings have had to be cancelled.
All Monarch flights will be replaced with alternative flights, organised by the Civil Aviation Authority(CAA), with assistance from the administrators, in a £60 million operation.
Blair Nimmo, partner at KPMG and joint administrator to the companies involved, said: "Mounting cost pressures and increasingly competitive market conditions in the European short-haul market have contributed to the Monarch Group experiencing a sustained period of trading losses."
He added that KPMG was commencing the process of returning the group's leased aircraft fleet to its owners.
In a letter to staff, Monarch chief executive Andrew Swaffield said the "root cause" of the airline's plunging revenues was terror attacks in Egypt and Tunisia, as well as the "decimation" of the tourist trade in Turkey.
There has also been intense competition in the airline short-haul industry.
Two other Monarch Group companies, Monarch Aircraft Engineering and Monarch Aircraft Engineering LLC (Monarch Ukraine), are not in administration and continue to trade as normal.
Monarch is the third European airline failure this year, following Air Berlin and Alitalia, which went into insolvency during the summer.