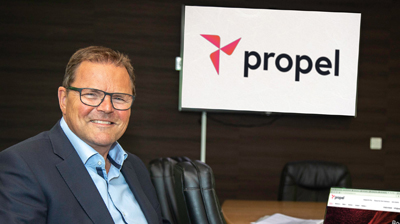 Henry Howard Finance Group is changing its name to Propel to drive new business expansion in 2020.
The name change is one of several developments for the business, which will be opening new offices in Manchester to help support its growth as it launches several new supplier programmes to support SMEs.
It will also be introducing new versions of its technology in 2020, including a new platform designed to accelerate the online acceptance process.
Mark Catton (pictured), chief executive officer of Propel Finance, said: "Our new name 'Propel' embodies our passion for the business and our ambitions for our customers in one simple name. Propel means to drive forward. It is a powerful word that sums up what we strive to achieve for the SMEs and vendors that we support across the UK, and our own business."
''Our Propel Promise, being small enough to care and deliver a brilliant personal service to our customers, and big enough to have the expertise and technology to be a leader in SME finance, is a commitment to all our existing and future customers.
Anne Williams, chief operating officer, added: "Our aim is to push the boundaries of what's possible in finance for our customers' benefit. Our new brand and technology are essential elements of our strategic platform for future growth and expansion."