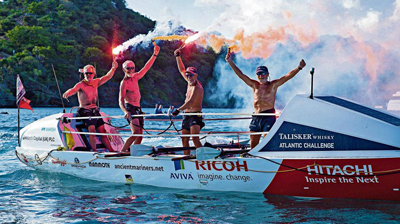 Two teams including finance and motor industry leaders have achieved new world records by completing a gruelling Atlantic rowing challenge.
A team of veteran rowers, including the chairman of Hitachi Capital (UK) Guy Munnoch, has set a world record for the oldest team of four to row across any ocean by finishing the gruelling Talisker Whisky Atlantic Challenge.
The four-strong team, called the Ancient Mariners, are aged between 61 and 67, with a combined age of 257 years.
The boat, called the Grey Escape, was crewed by Munnoch, Mike Winn, Steve Hughes and John Moorhouse, who rowed from the Canary Islands to Antigua in 49 days, beating the previous record set on the same route in 2015 by three days. The previous record holders had a combined age of 223 years.
The 8.7 metre vessel was sponsored by Hitachi Capital (UK) and the challenge raised more than £20,000 for two charities - Blind Veterans in the UK and Open Arms Orphanage in Malawi.
Munnoch said: "It's a tremendous feeling to reach the finish in less than 50 days and I'm incredibly proud that we've achieved a new Guinness World Record as the oldest team of four to row across an ocean, whilst also making a difference and supporting the fantastic work of two charities very close to our hearts."
In the same challenge, The Ocean Five, a team including Kevin Gaskell, a former head of Porsche, BMW, Lamborghini, epyx and EurotaxGlass's, broke the world record for the fastest team of five to row the Atlantic by completing the crossing in 35 days.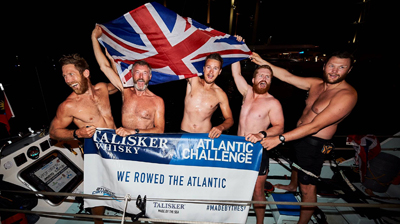 Gaskell completed the row in the boat Lady Jayne with Matt Gaskell, Will Hollingshead, Chris Hodgson and Sam Coxon, to raise awareness of plastic pollution on behalf of The Plastic Soup Foundation.
This is the latest adventure for both leaders, who have separately completed treks to the North and South Pole.
The Talisker Whisky Atlantic Challenge is completed by teams ranging in size from five rowers to a single crew member.
Following the start on December 12, there are eight boats with teams of one or two rowers still at sea, including Row off the Wall (pair) and Mad Giraffe (solo), whose crews still have around 1,000 nautical miles of ocean remaining before they reach land. You can follow their progress here.