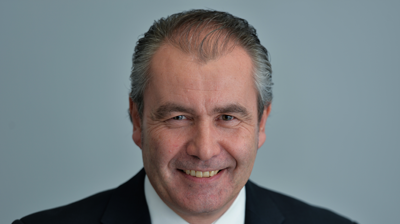 UK-based independent finance provider, 1pm plc, has announced it has rebranded to Time Finance following the recent completion of its buy and build acquisition strategy which has resulted in a portfolio of seven lending and broking businesses.
According to the company, all businesses within the existing 1pm Group will be renamed under the Time Finance brand. This will consist of:
Onepm Finance;
Academy Leasing, acquired in August 2015;
Bradgate Business Finance, acquired in March 2016;
Intelligent Loans, acquired in March 2017;
Gener8 Finance, acquired in June 2017;
Positive Cashflow Finance, acquired in June 2017.
Ian Smith (pictured above), chief executive officer of Time Finance, explained: "As an ambitious and forward-thinking business, now is the right time to capitalise on our development as a Group. Having pursued a successful acquisition strategy, Time Finance has seen a period of sustained growth resulting in £150m of funding being provided or arranged annually for more than 20,000 businesses across the UK.
"Rebranding the business to consolidate and strengthen our offering is the next step for us. Time Finance reflects who we are as a business today, as well as our ambition to become a recognised force for UK businesses seeking a fast and flexible choice of finance to support their growth."
Smith added that the new brand pays homage to the company's origins as 1pm (derived from 'one payment monthly') and takes its inspiration from the notion that both time and finance are two of the most valuable assets to a successful business.
He concluded: "Running a business is challenging and funding can mean the difference between standing still or achieving growth. Businesses need to feel confident about their financing in a market where accessing finance isn't as easy as it could be. As a finance provider we are committed to solving their needs through our range of financial solutions by offering the right solution at the right price, whatever the size of business. This is positive news for our clients and our introducers as we work together to deliver a more comprehensive solution to the needs of UK business".
Founded in 1998, the newly-named Time Finance offers a range of funding solutions such as asset finance, invoice finance, loans and vehicle finance to businesses across the UK from its network of five offices.
The company provides and arranges approximately £150 million of funding each year, and has so far built up a net asset portfolio of £55 million.