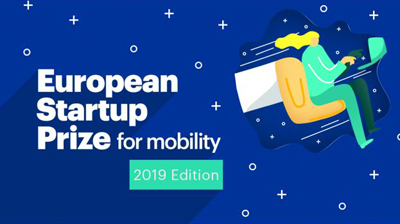 A unique accelerator scheme that supports startups developing sustainable mobility innovations has named the 50 finalists in its latest programme.
The European Startup Prize for Mobility is a joint venture run by the European Parliament's Transport and Tourism Committee, Boston Consulting Group and Via ID that invites mobility startups from around Europe to submit ideas for the future of transport.
This year's launch received 570 applications from across Europe and 10 winners will be chosen to take part in a business accelerator scheme.
During the selection process, each of the 570 entrants was analysed by three experts in mobility and startup organisations. They whittled the selection of prospective winners down to 150 before selecting the finalists.
The final will be hosted Brussels later this year, with nine companies chosen by jury and a tenth chosen by the public on Facebook.
European Startup Prize for Mobility - The 50 finalists are:
| Name | Country | Description |
| --- | --- | --- |
| Aipark | Germany | Provides live parking maps for developers |
| Alertgasoil | France | Real-time fuel consumption measurement |
| Blickfeld | Germany | Builds LiDAR hardware & software to support autonomous driving |
| BroadBit Batteries | Finland | Green battery technology |
| Cargoroo | Netherlands | Offers shared cargo bikes for families and businesses |
| Chargery | Germany | Service provider for shared urban electric fleets, energy & charging |
| Citygo | France | Carpooling for work, urban mobility |
| Cityscoot | France | Free-floating, shared electric scooter, urban mobility |
| Cyclofix | France | On-demand maintenance service for micromobility devices, urban mobility |
| dott | Netherlands | Urban scooters, urban mobility |
| Ebikelabs | France | Connected maintenance solution for e-bike sharing, urban mobility |
| Einride | Sweden | Autonomous driving, data analytics |
| Enso Tyres | UK | Build better tyres for electric vehicles, vehicles & accessories |
| Everoad | France | Digital solutions provider, inter-urban & long-distance mobility, logistics & supply chain |
| Faxi | UK | Incentivised carpooling for commuters |
| FretLink | France | Digitising the organisation of the road transportation industry, logistics & supply chain |
| Geovelo | France | Cycling smartphone app |
| GoodVision | Czech Republic | Automated traffic data collection from cameras through deep learning AI, data analytics, GPS & tracking |
| Greenrail Group | Italy | Railway sleepers that support the circular economy |
| Hygen | Germany | Infrastructure for gas-powered cars |
| Hyper Poland | Poland | Smart logistics platform |
| K-Ryole | France | Electric bike trailers for professionals in urban areas |
| Karhoo | UK | Urban mobility marketplace |
| Kyyti | Finland | Develops MaaS solutions offering single platform for all mobility solutions |
| LiveEO | Germany | Uses satellite imagery to monitor infrastructure from space |
| Mobiag | Portugal | Provides tools to manage and scale shared mobility services |
| Mobit | Belgium | IoT startup offering bike fleet management using smart lock, GPS & tracking |
| Moovee | Luxembourg | Shared fleet management for companies, ranging from car-sharing to scooters |
| Muving Torrot | Spain | Electric scooter manufacturer |
| Mvmant | Germany | Supports mobility through dispatching of vehicles managed by predictive algorithms and by smartphone app-based requests |
| Ono (Tretbox) | Germany | Pedal-assisted urban cargo carrier |
| OpenAirlines | France | Solutions to help airlines reduce costs and CO2 emission |
| OpenDataSoft | France | Simplifies the publishing and processing of smart city data |
| Padam | France | Software for on-demand transport services and public transport |
| Proximi.io | Finland | Technology-agnostic platform for developers that combines all major mobile positioning technologies under one umbrella |
| Qucit | France | Uses artificial intelligence to understand the link between urban design and its impact on people's behaviour |
| Ryd | Germany | Data analytics |
| Rydies | Germany | Platform and B2B marketplace for cycling-related services |
| Scooty sharing | Belgium | Electric scooter-sharing service |
| Shotl | Spain | Real-time mobility platform |
| TeleRetail | Germany | Artificial intelligence-powered software to support urban logistics |
| TransWay_fr | France | Urban mobility solutions provider including points-based rewards system |
| Twaice | Germany | Battery analytics to help increase reliability and operating cycle |
| Unicorn Scooters | Lithuania | Shared electric scooter service |
| UrmO | Germany | Standing platform on wheels for powered urban mobility |
| Valerann | UK | Data provider that helps support connected, autonomous vehicles |
| WheelizTeam | France | Peer-to-peer wheelchair accessible car rental |
| XeeTeam | France | Central platform to collect and analyse mobility data |
| Zeleros Hyperloop | Spain | Developing hyperloop systems designed to move passengers at up to 1000kmh through tube networks |
| Zify | France | Carpooling app for urban commuters |