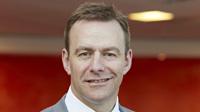 The British Vehicle Rental and Leasing Association (BVRLA) has announced Matt Dyer as its new chairman as part of a series of new appointments announced at the association's annual general meeting.
He takes over from Hitachi Capital Corporation's Simon Oliphant, who will take the role of vice-chairman after completing a two-year term as chairman.
Dyer, who is managing director of LeasePlan UK, joined the BVRLA's committee of management in 2014, and was appointed to the position of vice-chairman in May last year.
He said: "It is an honour to be in a position to drive positive change within the industry I have been associated with for more than 20 years.
"The BVRLA has been dealing with changes in the industry already [in] thoughtful and innovative ways and I will endeavour to help contribute to the purpose and vision of this group."
Dyer said that he would aim to continue the "excellent work" of Oliphant and BVRLA committee members as it continued to build its presence and develop stronger relationships with government to enhance the industry's voice while growing its membership.
He added: "I am looking forward to helping the association and our members navigate the dynamic mobility landscape we work within.
"We will be at the heart of the discussion on the big issues, from the challenges surrounding air quality and emissions, to the opportunities surrounding connected data.
"Informing our members and helping them to understand the positive impact the sector can have underpins everything we do."
His new role takes effect immediately and he will be responsible for leading the BVRLA committee of management, which has been expanded with the appointment of Ian Tillbrook, fleet director at VW Financial Services, who is now chairman of the leasing and fleet management committee.
In another change, Spencer Blake of Wessex Fleet has replaced Fleetdrive's Mike Potter as chairman of the association's leasing broker committee.
BVRLA chief executive Gerry Keaney said: "I'm pleased that Matt is stepping up as chairman of the association. His enthusiasm and experience will greatly benefit the BVRLA as we celebrate our 50th anniversary.
"We must also acknowledge the outstanding efforts of Simon and all our outgoing committee members. Their efforts have helped steer the BVRLA in recent years, and we are very grateful."
The BVRLA is the UK trade body for companies engaged in the rental and leasing of cars and commercial vehicles. It has more than 900 members, operating a combined fleet of nearly 5 million cars, vans and trucks.
BVRLA members buy nearly half of all new vehicles sold in the UK, supporting around 317,000 jobs and contributing nearly £25bn to the economy each year.