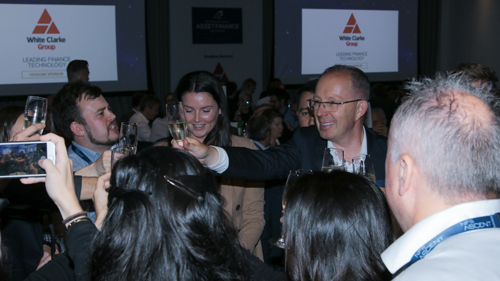 The annual International Asset Finance Network Awards have been announced during a gala dinner in London attended by hundreds of senior industry figures.
In front of a record audience, the leading companies and business leaders were recognised in nearly 20 categories.
Edward Peck, co-founder of the International Asset Finance Network and chief executive officer of Asset Finance International, presented a new line-up of awards celebrating the wide range of different types of organisation in the industry.
Nearly 30 senior industry figures took the role of independent judges to determine the winners, with the process verified as fair by chairman Adrian Dally, head of motor finance at the Finance and Leasing Association.
Peck said: "We would like to thank all the people involved for giving up their valuable time to read and grade the awards entries. It was great to see so many applications flooding in; it is good news that there is so much to celebrate in our industry."
He also paid tribute to the Leasing Foundation for its work to support new talent through its Young Business Finance Professionals programme that secured places at the event for some of the industry's future leaders.
Peck added: "The Leasing Foundation are really serious in their support of young talent and this is a tangible result of their work."
The awards were split into three segments, with the industry's best companies recognised in nine categories.
These were followed by the PowerUP London Awards, run in association with Theorica, formerly the Future Finance Network, which celebrate the industry's innovators. The judges chose six innovators to pitch to the IAFN 2019 conference audience of senior industry figures, before a winner was chosen in three awards categories, followed by the announcement of an overall PowerUP London Award winner.
The final highlight of the dinner was the Hall of Fame Awards, which recognise the industry leaders who have provided a long-term, significant contribution to the industry.
For more on the International Asset Finance Network, visit the event website for details of the next conference on Thursday, December 12, 2019.
The event was supported by more than 20 companies, including headline sponsor White Clarke Group.
International Asset Finance Network 2019 Awards – RESULTS
1. IAFN/Aston Business School Servitisation Award – HPE Financial Services
2. European Bank Lessor 2019 - Close Brothers Asset Finance (Highly-Commended BNP Paribas Personal Finance; ALD Automotive)
3. European Independent Lessor 2019 - Oodle Car Finance (Highly-Commended Ogilvie Fleet)
4. European captive finance lessor - JCB Finance
5. European Fleet Management and Finance Organisation of the Year - ALD Automotive (Highly-Commended Alphabet)
6. European Retail Auto Finance Provider of the Year - Alphera Financial Services (Highly-Commended MotoNovo Finance)
7. European Equipment Finance Lessor of the Year - Simply (Highly-Commended - Aldermore)
8. European SME Finance Provider of the Year - Aldermore (Highly-Commended 1pm plc)
9. European Professional Services Provider of the Year - Automotive Compliance
10. PowerUP SME Finance Innovation Award - Wiser Funding
11. PowerUP Growth Award – CheckVentory
12. PowerUP Scale Award – Drover
13. PowerUP Award 2019 – CheckVentory
14. Fleet Finance Hall of Fame Award – Colin Tourick, co-founder International Asset Finance Network
15. Technology Hall of Fame Award – Martin Drake, co-founder, Drive Software Solutions
16. Equipment Finance Hall of Fame Award – Carmen Ene, chief executive officer, 3 Step IT
17. Retail Auto Finance Hall of Fame Award – Georg Bauer, chairman and co-founder, Fair