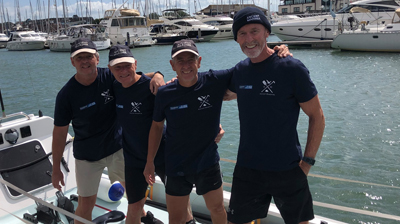 A team of veteran rowers, including the chairman of Hitachi Capital (UK) Guy Munnoch, will set off next month on an ambitious bid to break the world record for the oldest team to row across the Atlantic.
The four-strong team, who call themselves the Ancient Mariners, are aged between 61 and 67, with a combined age of 257 years.
They will set off on the 3,000 mile crossing in their boat, the Grey Escape, as one of 30 vessels taking part in the Talisker Whisky Atlantic Challenge.
Munnoch will be joined by Mike Winn, Steve Hughes and John Moorhouse when they start their epic journey from the Canary Islands on December 12. They plan to come to shore in Antigua two months later.
The team, which is sponsored by Hitachi Capital (UK), will face a non-stop rowing schedule, taken in shifts, with the journey expected to take around 1.5 million combined oar strokes as they raise money for two charities - Blind Veterans in the UK and the Open Arms Orphanage in Malawi.
The current record for the oldest crew of four to row any ocean is the Antiguan team 'Wadadli', who rowed the same route in 2015, with a combined age of 223 years. Nick Fuller, Peter Smith, JD Hall and Rowan Bailey completed the challenge on board Wa'Omoni in 52 days.
Munnoch said: "With an average age of over 64 years, this is an extremely challenging endeavour that will require immense resilience, which we are determined to complete within 60 days, despite limited rowing experience.
"Supporting two charities close to our hearts whilst bidding to set a new Guinness World Record will spur us on to complete the challenge, whatever daunting challenges we will face at sea."
The Ancient Mariners have opened two JustGiving pages to donate to their chosen charities. To donate, visit the links below:
L-R Steve Hughes, Guy Munnoch, John Moorhouse, Mike Winn