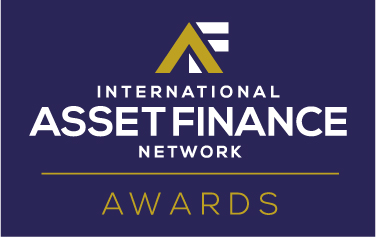 The best companies and executives in the industry have been recognised at the International Asset Finance Network Awards in London.
During a packed ceremony, a total of 18 awards were announced in front of hundreds of guests from the global asset finance industry.
Dozens of senior industry figures took the role of independent judges to determine the winners, with the process verified as fair by chairman Adrian Dally, head of motor finance at the Finance and Leasing Association.
The awards recognise the most innovative companies in the industry, drawn from equipment, fleet and auto finance, while a series of trophies sponsored by Genpact were awarded for best use of AI.
The PowerUP Awards, run in association with Theorica, recognised ground-breaking innovative ideas.
Edward Peck, co-founder of the International Asset Finance Network and chief executive officer of Asset Finance International, said: "We would like to thank all the people involved for giving up their valuable time to read and grade the awards entries. It was great to see so many applications flooding in; it is good news that there is so much to celebrate in our industry."
He also paid tribute to the Leasing Foundation for its work supporting new talent through its Young Business Finance Professionals programme, which secured places at the event for some of the industry's future leaders.
Peck added: "The Leasing Foundation are really serious in their support of young talent and this is a tangible result of their work."
The highlight of the dinner was the presentation of two key industry awards - CEO of the Year and the Women in Leasing Award.
For more on the International Asset Finance Network, including its series of conferences, visit the event website for details.
Peck thanked the industry sponsors for supporting the event, including headline sponsor Alfa, platinum sponsor White Clarke Group and gold sponsor NETSOL, adding: "At a time when technology is impacting our daily lives to an extent we have never before witnessed it is appropriate to have the world's leading solutions providers supporting the event."
For the International Asset Finance Network Conference and Awards, Alfa was headline sponsor, White Clarke Group was platinum sponsor, while NETSOL was gold sponsor. Genpact was AI insights leader.
Teamwill Consulting was network sponsor for lunch and Bynx was network sponsor for registration and refreshments. Locke Lord was network sponsor for regulation and compliance. Apak Group and FICO were sponsors, while Quotevine was network partner.
The IAFN/PowerUP Overall Innovation Award sponsor was Cloud Lending, a Q2 company, Aldermore sponsored the IAFN/PowerUP Changemakers Award, Simply sponsored the IAFN/PowerUP Techstars Award and VIP Apps
Consulting sponsored the IAFN/PowerUP Innovators Award.
Tables hosts for the awards were Close Brothers Asset Finance and the Leasing Foundation.
International Asset Finance Network Awards December 2019 Winners
Best Use of Technology - Credit Kudos; (Highly-commended - Codeweavers)
Best Use of Data - Lex Autolease (Highly-commended – Simply)
Best Product or Service in Auto Finance - Cazana (Highly-commended – iVendi)
Best Product or Service in Fleet Finance - Lex Autolease
Best Product or Service in Equipment Finance - Hitachi Capital (UK) (Highly-commended Simply)
Best Wholesale Finance Product of the Year - Aldermore
Fintech Innovator of the Year - QuickFi
Point of Sale Innovation Award - White Clarke Group (Highly-commended - JCB Finance)
Professional Services Firm of the Year - Locke Lord
Best Use of AI in Auto Finance, sponsored by Genpact - GM Financial (Highly-commended – ADESA)
Back Office Innovation of the Year - White Clarke Group (Highly-commended - Hitachi Capital (UK) )
PowerUP London Innovator of the Year, sponsored by VIP Apps Consulting - IBM
PowerUP London Changemaker of the Year, sponsored by Aldermore - QuickFi
PowerUP London Techstar of the Year, sponsored by Simply - Intrador
PowerUP London Overall Innovation Award 2019, sponsored by sponsored by Cloud Lending, a Q2 Company - Intrador
IAFN Servitisation Award - Volvo Financial Services
CEO of the Year 2019 - Neil Davies, Close Brothers Asset Finance
Women in Leasing Award 2019 - Ylva Oertengren - Simply