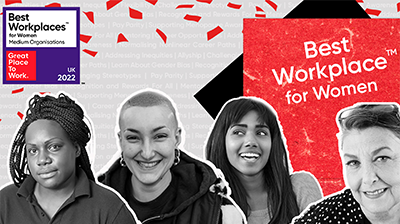 Leasing and fleet management specialist Fleet Alliance has been voted A Best Workplace For Women 2022, marking the second time the Glasgow-based company, which has a workforce with a 53/47 female to male ratio, has been recognised as a leader in embracing diversity at work.
Fleet Alliance CEO, Andy Bruce, said: "We believe this award is particularly noteworthy because our business is immersed in the automotive industry which is male-dominated - something that we think needs to change.
"Here at Fleet Alliance, making the workplace a happy, inclusive and welcoming environment is crucial to us all."
The qualifying criteria for the Best Workplace for Women require a minimum of 25% of women in the workforce; a minimum of 20% women in mid-level management; and a minimum of more than one woman on the board of directors or at executive level.
Fleet Alliance's corresponding figures are 53%, 40% and 33% - well above the national average.
Bruce continued: "It's more than just numbers. Creating the right environment and culture has to work across the board. As part of our annual Great Workplaces survey, staff responded to over 60 survey questions describing the extent to which Fleet Alliance creates a 'Great Place to Work For All'.
"Some 85% of the ranking we achieved is based on what the women who work here reported about our workplace, and how fairly those experiences compared with the men working for us and their reports.
"So, it's getting the balance right for all. Another way of describing it, we believe, is simply that we're all equal.
"This second 'Best Workplace For Women' award demonstrates what we hope are consistent values and, in a wider context, forms part of our highly important Environmental, Social and Governance agenda."
Bruce explained the company's inclusive environment is nurtured by the core social commitment "Fleet Alliance Loves", based on four principles: fairness, trust, engagement and respect.
Laura Muir, head of AR & partner at Fleet Alliance, added: "When I first started in the industry 18 years ago, it was very male dominated, and I find that's still often the case when I speak to other organisations. But not at Fleet Alliance.
"Here you feel at ease in an office where there is a lot of respect - we can openly discuss issues such as mental health, gender equality, sexuality and menopause without fear.
"I don't feel there are barriers to progression, either. I've never felt uneasy about promotion because I'm the 'wrong sex'. On the contrary, it's empowering when you see women in the office that are in positions of management.
"I think much of this is down to the open-minded attitude that permeates from the top down: everyone is treated equally - it's an environment that's very welcoming."