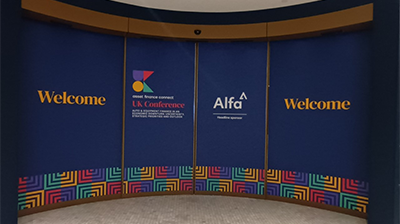 The conversation flowed and debates continued at the Asset Finance Connect UK Conference, held in London on 5th December. Over 375 senior executives heard presentations from a broad range of international speakers from the auto, equipment and asset finance sectors, and made the most of the opportunity to meet face-to-face to network.
The focus for the conference, for which Alfa Systems was the headline sponsor, was the challenging economic headwinds facing the industry, changing customer expectations, rising interest rates and increased regulatory focus.
Sebastian Burnside, Chief Economist at NatWest provided an outlook of the current tightening of economic conditions with energy shortages likely to worsen, supply of some assets likely to remain scarce throughout next year, geopolitical and economic concerns about Russia persisting, and those about China continuing to grow, all resulting in high inflation and a cost-of-living crisis.
During a particularly volatile time for businesses, the conference highlighted signs of optimism in the asset finance industry and, as John Rees mentioned, our industry is pretty resilient and can reinvent itself when faced with economic and geopolitical challenges - and when cash is tight in times of economic uncertainty, companies look to finance assets which is when the asset finance industry can step up to the challenge!
In his pre-recorded interview, Professor Jim Saker, President of the Institute of the Motor Industry addressed rising concern around the lack of access to raw materials that are vital for the manufacture of batteries, resources which are largely controlled by China. It is the restrictions on access to these resources and our current lack of ready infrastructure for electric vehicles that Saker believes makes the planned ban on manufacture of ICE vehicles by 2030 unwise.
Auto finance keynote speaker, Alice Altemaire, CEO of Mobilize Financial Services UK, had a lively debate with our own David Betteley discussing how new auto finance products can improve our lives, respect the Earth and deliver a sustainable future. Aliced highlighted that you don't need to choose between saving the planet and saving costs as "saving the planet is saving money".
More debate followed in the auto finance session focussed on the OEMs increased interest in agency, connected cars and subscriptions, which Edward Peck believes is an attempt by OEMS to increase their income by taking services from their partners in the auto ecosystem.
The zero dollar car man John Ellis and his fellow panellists picked up on previous AFC conference debates on the connected car and how the game has shifted from complete autonomy to semi-autonomy, with OEMs sending out a confused message about connected cars.
The asset finance session looked at how it is imperative for lenders and brokers to collaborate to make the broker-lender channel more efficient and to close the ever-widening gap! Of course, for asset finance brokers there are many issues surrounding regulation with commission disclosure being a constant source of debate.
There has also been a focus this year on regulation with the FCA's new Consumer Duty guidelines being introduced in July. These rules provide a focus on the customer and customer outcomes, with the customer being placed at the heart of everything. This focus on the customer was further discussed by Helena Thernstrom and colleagues in their innovative session connecting behavioural science to consumer duty, with consumer understanding being key to consumer duty.
Our technology sessions focused on the move to digital ecosystems and industry partnerships and collaboration. The digital transformation has seen a shift from a single end-to-end solution to a future in which technology's power is channelled not by individual operators, but by many participants, who collaborate on delivering entire platforms and applications that can be fully integrated to deliver new business solutions. The value in a wider digital ecosystem will create a community with a common purpose, which can work together to tackle future challenges facing the industry.
Inaugural workshop sessions
Asset Finance Connect and Shoosmiths hosted a workshop focused on the implementation of the forthcoming Consumer Duty in a closed meeting at the AFC Winter Conference. The workshop discussed the challenges in implementing the new FCA regulation and themes arising in the sector and was delivered through a mix of presentations, commentary and an interactive case study.
The session provided a great opportunity to meet with peers from the legal and compliance community, ask questions, share ideas and build confidence in the implementation of the Consumer Duty.
Asset Finance Connect's first Chief Technology Officers Community Workshop also took place in a closed meeting at the conference, and was open to senior technologists working in finance companies.
Topics highlighted in research interviews conducted by Asset Finance Connect's tech-advisory partner Finativ including microservices, data and organisational change were considered by participants in small workgroups during the one-day session.
Finativ's COO Peter Hunt highlighted that the workshop was a great success and an invaluable tool for networking and sharing ideas and issues encountered by CTOs in the industry.
30 Under 30 winners 2022 announced
In support and recognition of the next generation of talent in the asset finance industry, the Leasing Foundation's 30 Under 30 winners for 2022 were announced at the conference. Acquis' Chief Commercial Officer James Rudolf, along with Leasing Foundation Chair, Nathan Mollett welcomed the winners to the stage during the conference in London to receive their award recognising their achievement.
This year's recipients represent 29 different lenders or service providers who together are investing in the future leaders of the industry.
FinTech Innovator Showcase
The afternoon concluded with Asset Finance Connect's fintech innovator showcase. Three leading fintechs were given the opportunity to pitch their company's proposition to the audience and answer questions from a specialist panel. The judges were led by Steve Taplin, managing director of Lendscape, alongside equipment finance expert Ylva Oertengren, COO of Simply and Andrew Martin, Chief Data Officer at Credicar. The three finalists were:
Apoidea: an AI-empowered fintech company which provides document intelligence solutions to financial institutions in the area of KYB, credit analysis and compliance check
Brego: bringing change to various industries including the automotive sector through technology, with advanced accurate modelling and valuation services using Artificial Intelligence
Detected: provides frictionless global business onboarding, using a unique algorithm which utilises over 1,700 data sources to create a detailed and accurate profile of any business in the world.
And the winner, polling the highest number of votes from the panel and also the delegates, was Detected.
Asset Finance Connect UK's Winter Conference was sponsored by Alfa (headline sponsor); FIS and Solifi (platinum sponsor); NETSOL Technologies (gold sponsor); Odessa and Sopra Banking Software (silver sponsor); Bynx (registration and refreshment sponsor); Lendscape (Fintech Innovator Showcase sponsor); QV (workshop sponsor); TeamWill and Auto Trader (session sponsor); and Acquis, Basikon, Elevenci and Findustrial (sponsor).