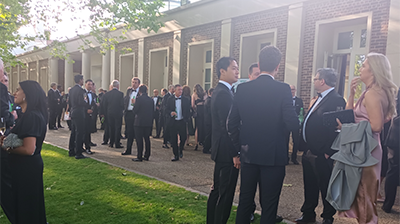 The sun was shining at London's prestigious Hurlingham Club for the Asset Finance Connect Summer Awards 2023. More than 500 auto, equipment and asset finance professionals attended the largest asset finance awards to celebrate the many success stories in the industry, particularly during such volatile and challenging times.
Focusing on People, Planet and Profit, this year's awards were designed to showcase the very best in auto, equipment and asset finance, acknowledging those organisations, teams and individuals who have committed to making a real change, as well as highlighting excellence among the industry's emerging talent and tomorrow's leaders.
A total of 49 awards in 21 categories were presented during the course of the evening, which saw colleagues come together to catch up with old friends, renew existing acquaintances and make new contacts, while enjoying the food, drink and entertainment on a lovely warm summer evening.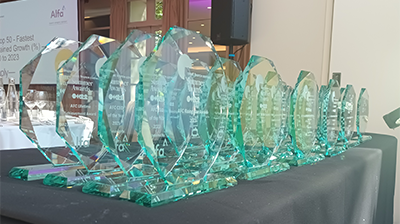 The evening began with the launch of the 2023 AF50 UK rankings - the much-anticipated top 50 listings of auto and equipment finance firms ranked by outstandings. Accompanying AF50 awards were presented to the largest lending firms in the country, the fastest expanding businesses, and the highest new AF50 entrant.
New award categories were added to the evening's proceedings to recognise great employers, lenders and brokers, as well as extraordinary social and environmental contributions to the industry.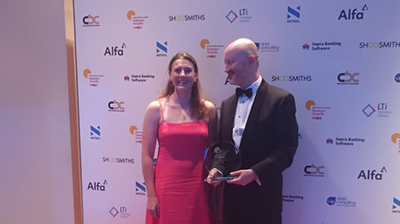 The Social Award corporate winner was Alfa Financial Software to celebrate the work they do across a range of social issues. Alfa's eight employee-led 'Communities', including Alfa for Racial Equity, Alfa's LGBTQ+ Community, Alfa Women's Community and Alfa's Inclusion Community, lead the way in raising awareness on a host of important subjects, educating colleagues, supporting each other and making a positive impact on the work lives of Alfa's employees.
The individual winner of the 2023 AFC Social Award was Helen Lumb, Chief Financial Officer at Shire Leasing Plc for her "drive and passion for developing other people as well as promoting equality and inclusion in the workplace." In addition to the numerous social initiatives she has implemented at Shire Leasing alongside her day-to day role, Helen frequently runs events promoting good mental health and wellbeing in her capacity as a Board Member for the Leasing Foundation and the Finance & Leasing Association.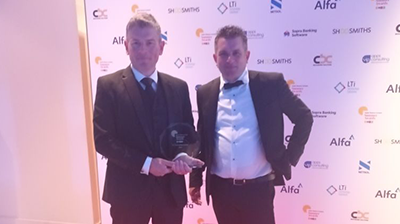 Winners of the AFC Environment Award 2023 were three teams at Close Brothers Asset Finance and Leasing who are key to Close Brothers' Climate Strategy, namely Renewable Energy, National Accounts and ESG, and Wholesale Finance – Fleet and Contracts. Between them, they are leading the way in a number of renewable sectors, including onshore wind farms, battery storage, and electric vehicle leasing.
The 2023 AFC Outstanding Achievement Award was awarded to Louise McIntosh, Head of Asset Finance Operations at United Trust Bank for her project management of the implementation of Alfa Start in 2022, which was delivered in 21 weeks, from start to finish. Nathan Mollett, Head of Asset Finance at UTB said, "Louise somehow balances high quality service in "business as usual" operations with managing a very ambitious change agenda."
The highly sought after Best Organisation to Work For Award, sponsored by CBC Resourcing Solutions, was won by Millbrook Business Finance Ltd (best broker) and Simply (best lender)
Unlike our other awards, this category was not judged by our panel of industry experts and was instead judged anonymously by the company's own employees, meaning the accolade of "best company to work for" really is a true endorsement of how employees feel and how much employees appreciate their employers.
The evening culminated in the presentation of three prestigious awards: Rising Star, CEO of the Year and Lifetime Achievement Award, sponsored by the headline sponsor of the night - Alfa.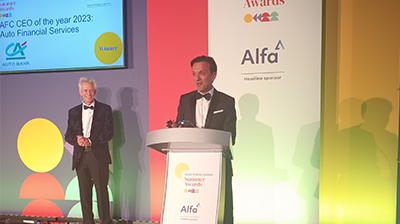 Giacomo Carelli, CEO of CA Auto Bank, was named Auto Financial Services CEO of the Year 2023, due to his commitment, ability, creativity and intuition, leading the evolution of the company in April 2023 into CA Auto Bank, the new "mobility bank for a better planet". Carelli has contributed to the industry through the development of innovative financial solutions to democratize access to zero- and low-emission vehicles, making access to green mobility affordable for the largest number of people.
Tim Albertsen, CEO of ALD, was named Fleet Operator CEO of the Year 2023, for his significant and remarkable contribution to and deep understanding of the automotive industry. Albertsen successfully completed the acquisition of LeasePlan earlier this year, positioning the combined group as the leading global sustainable mobility player with a total fleet of 3.3 million vehicles worldwide.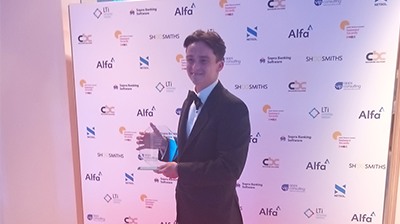 Cameron Small, Managing Director of Honey Asset Finance was the outstanding recipient of the Rising Star Award, contributing to the success of Honey Asset Finance through his guidance and leadership, as its managing director since its incorporation in 2017, whilst actively promoting the asset finance industry to young people at the local college and setting up a young professionals networking group.
The final award of the night — the Lifetime Achievement Award — was bestowed on Bruce Nelson who has been a central figurehead in the asset finance industry for almost 50 years.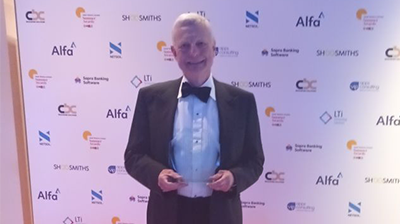 Bruce, who has been described as the "godfather of the industry", has shown true passion for the sector and helping people whilst having an enormously positive impact in helping to reshape the asset finance industry.
The summer event, which is an integral part of the asset finance calendar, was sponsored by Alfa as headline sponsor, CBC Resourcing Solutions, LTi Technology Solutions, NETSOL Technologies, Shoosmiths, Sopra Banking Software, and VIP Apps Consulting.
Follow us on Instagram at https://www.instagram.com/assetfinanceconnect/ and LinkedIn at https://www.linkedin.com/company/asset-finance-international/ to see the latest photos from the AFC Summer Awards 2023.
#AFCAwards23
Awards 2023
Asset Finance Provider of the Year 2023, sponsored by LTi Technology Solutions:
Winner: Time Finance
Highly commended: Aldermore Bank; Shire Leasing PLC
Auto Finance Provider of the Year 2023, sponsored by Sopra Banking Software:
Winner:  Mobilize Financial Services
Highly commended: JBR Capital; MotoNovo Finance
Equipment Finance Provider of the Year 2023, sponsored by NETSOL Technologies:
Winner: Novuna Business Finance
Broker of the Year 2023:
Winner: Charles & Dean
Winner: GTF Event Equipment Finance (Small and independent broker of the year, sponsored by Broker Zone)
Highly commended: Anglo Scottish Asset Finance
Lender of the Year 2023:
Joint Winners: Close Brothers Asset Finance and Simply
Highly commended: Metro Bank
Professional Services Firm of the Year 2023:
Winner: Vehicle & Asset Solutions Ltd (VAS)
Excellence in Compliance 2023, sponsored by Shoosmiths:
Winner: Sarah Cunningham, Group Head of Compliance, STAR Asset Finance
Highly commended: CrediCar
Excellence in Technology 2023, sponsored by VIP Apps Consulting:
Winner: Mobilize Financial Services IS Team
Highly commended: Technology Development Team, Propel Finance
Best organisation to work for 2023, sponsored by CBC Resourcing Solutions:
Winner: Millbrook Business Finance Ltd (Best Broker)
Winner: Simply (Best Lender)
Highly commended: Aldermore Bank; Metro Bank Asset Finance
Social Award 2023:
Winner: Alfa Financial Software (Corporate winner)
Winner: Helen Lumb, Chief Financial Officer, Shire Leasing Plc (Individual winner)
Environment Award 2023:
Winner: Energy / National Accounts and ESG / Wholesale Finance – Fleet and Contracts, Close Brothers
Highly commended: Darren Riva, CEO, Capitas Finance Ltd
Outstanding Achievement Award 2023:
Winner: Louise McIntosh, Head of Asset Finance Operations, United Trust Bank
Highly commended: Jemma Gregory, Head of Customer, Strategy & Communication at BMW Group Financial Services and the EVOLVE Project Team; Robert Still, Head of Sales, Structured Asset Finance, Hampshire Trust Bank
Rising Star :
Winner: Cameron Small - Managing Director Honey Asset Finance Ltd
Highly commended: Cara Denton, Credit and Business Analyst, Shire Leasing Plc; Essie Quinnell, Credit Underwriter, United Trust Bank; Ivan Bagaliyski, Go-to-Market Strategy Director at Solifi
CEO of the Year, sponsored by Alfa:
Winner: Giacomo Carelli, CEO, CA Auto Bank (Auto Financial Services CEO of the Year)
Winner: Tim Albertsen, CEO, ALD (Fleet Operator CEO of the Year)
Lifetime Achievement Award, sponsored by Alfa:
Winner: Bruce Nelson, Compass Business Finance Ltd
AF50 Annual Survey Awards
AF Top 50 – Leading Lender – 2023:
Winners: Lombard, HSBC, BNP Paribas, Close Brothers, Novuna
AF Top 50 - Highest Climber – 2023:
Winners: Propel Finance, United Trust Bank, Simply, Haydock Finance
AF Top 50 - Fastest Growing Lender (%) – 2023:
Winner: Propel Finance
AF Top 50 - Fastest Sustained Growth (%) – 2020 to 2023:
Winner: Simply
AF Top 50 - Fastest Growing Lender (£) – 2023:
Winner: BNP Paribas
AF Top 50 – Highest ranked new entrant into listing – 2023:
Winner: Allica Bank
Kindly supported by
| | | |
| --- | --- | --- |
| | | |
| Headline Sponsor | Award Sponsor | Award Sponsor |
| | | |
| Award Sponsor | Award Sponsor | Award Sponsor |
Corporate Members