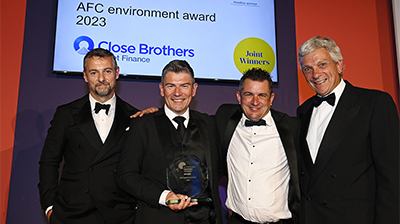 Close Brothers' mission is clear, as CEO Adrian Sainsbury stated in the annual report: "We are committed to supporting the transition to a low-carbon economy and will continue to work with all of our stakeholders on the journey to a net zero future."
There are three pillars to Close Brothers' Climate Strategy: Achieving net zero operations; reducing financed emissions; and financing the transition.
And key to this Climate Strategy are three teams in Close Brothers Asset Finance and Leasing: Renewable Energy, National Accounts and ESG, and Wholesale Finance – Fleet and Contracts, who were awarded the AFC Environment Award 2023 at the recent Asset Finance Connect Summer Awards.
Between them, these three teams are leading the way in a number of renewable sectors, including onshore wind farms, battery storage, and electric vehicle leasing.
On winning the award, Anton Nebbe, Head of PR & Communications at Close Brothers Asset Finance and Leasing commented, "The teams are naturally delighted to be recognised for all the hard work they've been putting in over the past number of years. External validation is important because it informs a wider audience about the strides you're making in a critical area."
Energy
The Energy team has been in place for a decade and from a standing start they have provided finance for around £3bn worth of energy products, equating to 1,000MW of installed generation.
The team has proven that financing this sector is not only the right thing to do, but it can be profitable as well.
Close Brothers Group has confirmed that it has an appetite to significantly increase its energy exposure. Among the large deals they have written includes: £85m facility to Conrad Energy for 10 battery storage projects; Twin Rivers wind farm at £37m; and £65m to wind farm developer Muirhall Energy Limited.
National Accounts and ESG
National Accounts and ESG is a unique team within the Transport Division of Close Brothers Asset Finance and Leasing with a remit to develop national relationships with manufacturers, dealers and governing bodies to help facilitate sales growth.
In addition to focusing on the more traditional sectors of the industry, they have a mandate to investigate and grow Close Brothers presence in the fast-moving ESG sector, funding both new and developing alternative-fuelled vehicles, as well as the infrastructure solutions that will be essential as the UK moves towards more environmentally-friendly solutions for the logistics market.
Key projects of the National Accounts and ESG team include: leading funder of new electric LEVC black cabs; preferred funding partner for a 100% electric taxi firm; preferred funding partner for a smart charging firm providing funding solutions for electric charging infrastructure; lead funding partner for a delivery firm as they move to a full electric fleet; and lead funding partner for a 100% electric last-mile delivery solution.
Wholesale Finance
The Wholesale Fleet team creates tailored finance solutions for the UK's vehicle industry and currently fund 95% of the independent companies in the Fleet News Top 50 Contract Hire list. They provide backing for independent contract hire and rental companies, as well as finance for dealerships.
The experienced team can structure finance in a variety of circumstances – they base their lending decisions on a business's overall health and plans, helping customers to make the right financial decisions. They also pride themselves on the speed of their agreements, responding quickly and aiming to provide a decision within days, sometimes hours.
Key projects include: early adopter of funding electric cars (since 2019); first sole lead funder for Octopus EV, who provide EVs on Salary Sacrifice; and Octopus EV has also selected Close Brothers Wholesale Finance as the first (and currently sole) funder for the 'ultimate' EV package. The scheme will provide drivers with everything they need to take the road - the car, charger and energy tariff.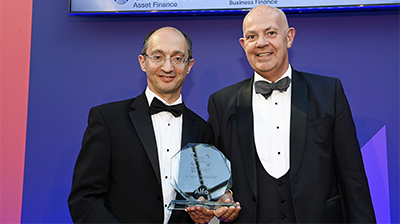 On top of winning the AFC Environment Award at the Asset Finance Connect Summer Awards 2023, Close Brothers Asset Finance were also joint award winners of the AFC Lender of the Year 2023 and the AF Top 50 Leading Lender for 2023.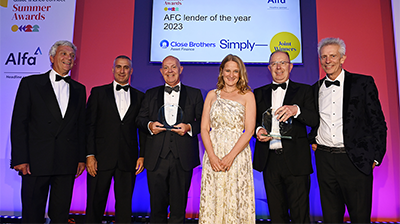 Kindly supported by
| | | |
| --- | --- | --- |
| | | |
| Headline Sponsor | Award Sponsor | Award Sponsor |
| | | |
| Award Sponsor | Award Sponsor | Award Sponsor |
Corporate Members