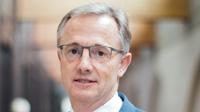 For millions of people around the country, it is our contactless cards we reach for to pick up a coffee on the way to work and our mobile phones we use to check our bank balances on the go.
Since the introduction of the first banking app in the UK just six years ago, around 20 million people now use them up and down the country.
Nearly one billion banking transactions were made via a mobile app last year, an increase of nearly 60% on 2015.
The traditional consumer behaviour of visiting a bank to make a deposit, of submitting a loan application by post and meeting a mortgage advisor in person does not mirror the 21st Century experience for many retail and SME consumers of financial services.
As the boundaries between different financial services have become blurred, one of the industry's challenges has been to ensure products reflect and respond to the needs of all of customers.
In launching UK Finance, a forward-looking, agile and collaborative trade association combining expertise from all corners of the industry, we have brought together six trade associations operating across 300 companies and societies, who themselves operate in finance, lending, banking, markets, fraud prevention and payments.
As UK Finance we will push for the UK to retain its position as a world leader in financial services, in turn ensuring customers can access market-leading and innovative products and services in an environment hostile to fraud and resilient to cyber-crime.
With Brexit negotiations already underway, it is vitally important the transition to a UK economy outside the EU is thoughtful and well-paced.
With the right kind of bridging arrangements, we can ensure customers, both in the UK and elsewhere in Europe, continue to receive the essential banking, payments and financial services they rely on.
Brexit will be just one of UK Finance's key priorities, as we work to ensure all customers, large and small, can access uninterrupted the services and finance they need.
Whether a large global business raising capital from the stock market or a first-time buyer taking the first step on the property ladder, we need to ensure that all customers have confidence their money is safe and their data is secure.
Tackling financial crime and the growing threat of cyber-attacks is a top priority. Although the industry stops £6.40 in every £10 of fraud, we are not complacent and I look forward to building on the work of Financial Fraud Action UK (FFA UK), and its Take Five anti-phishing campaign, to develop further partnerships to tackle fraud.
FFA UK has unparalleled expertise and is combining its vital work with the broader financial crime, anti-money laundering, sanctions and cyber-crime knowledge within the new organisation to help tackle these issues across the industry.
I am delighted FFA UK's law enforcement arm, the Dedicated Card and Payment Crime Unit, will continue to bring fraudsters to justice as part of UK Finance.
Meanwhile, fintech is generating enormous possibilities for our members and I envisage our collaboration with this sector will form one of the central pillars in our role of ensuring all our members can deliver the latest advances to their customers.
The launch of UK Finance is a real opportunity, not just for the financial services community, but for all consumers and businesses who rely on our members' products and services on a daily basis.
We will engage directly with end customers to understand their needs and issues and ensure that they are understood and actioned.
Through collaboration and focus on these important issues, our goal is to ensure that UK Finance plays a significant role in improving the way the financial services industry is viewed by the general public.
More than one million people work in the UK financial services industry and, as the Governor of the Bank of England acknowledged in his recent Mansion House speech, the sector pays taxes each year that cover almost two-thirds of the cost of our health service.
Financial services shape the fabric of our everyday lives; serving customers efficiently, safely and fairly is a must for our members and we will play our part in maintaining the industry's focus on these important goals.
* This article was originally published on www.ukfinance.org.uk.