In the US the Equipment Leasing and Finance Foundation has revealed in its June 2020 COVID-19 Impact Survey that some 81% of respondents had not to date furloughed or laid off staff. Furthermore, some 97% of respondents had not cut staff hours as a result of the pandemic.
Although such research has yet to be carried out in the UK, similar results may be expected amongst asset and auto lenders here.
Prior to the pandemic affecting the industry, CBC Resourcing Solutions (CBCRS) was experiencing a buoyant marketplace. CBCRS, established in 1992, has long been established as a principal recruitment specialist for the asset finance industry in the UK.
Graeme Chisholm, director (pictured above), explained: "2019 was a good year and the business finance lenders were expanding and seeking good staff additions. With the now customary extended two to three week break over the Christmas period it wasn't until 13 January that clients were actively recruiting again.
Keeping the wheels turning
"By the start of March there were still plenty of vacancies at all levels, more so amongst equipment lenders than auto lenders – but by 23 March and the commencement of lockdown – we realised that things were going to get pretty tough pretty quickly. Having made immediate plans with Armageddon in mind, we have been encouraged by the activity that has enabled us to 'keep the wheels turning', albeit at a fairly low level."
One of CBCRS' core strengths is not only its partnership approach and high level of integrity but also its broad specialisms ranging from all types of asset-based finance.
"As a result," Chisholm added, "We have had clients across those spaces who have continued to recruit. In addition we have seen some US-based clients, as well as some international bank-owned lenders, which have the vision to see opportunities in the UK market and have continued to recruit."
Miles Clarke, director (pictured below), stressed: "Understandably demand is currently increasing for staff with skills in broad risk and collections. But whereas some organisations do seem to be paralyzed by the crisis others are acting in a more agile manner, using the various video communications tools to assess and select the right candidates. With the potential short-term nature of the economic issues on existing portfolios, we are being mandated with more interim assignments of three to six months."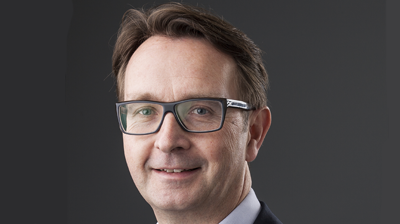 The various forbearance schemes in action have, of necessity, led to an increase in collections activity.
"Although much of the collections work is being accomplished by 're-aligning' existing staff," Clarke said, "certain clients need to bolster their collections teams immediately."
Keeping their promises
CBCRS did not experience the cancellation of prior accepted job offers once the lockdown commenced – a traditional concern for the recruitment sector. "Our clients kept their promises, and all who were promised posts did start work……..and the invoices were paid!"
To what extent was the 2008/09 great recession, when significant cuts in employment came about, likely to be mirrored in 2020?
Chisholm stressed; "It is a very different set of circumstances this time round. Last time people were worried about the sudden cut in funding and recruitment just ceased. Senior staff were looking for jobs where none were available. We have not seen redundancies happening on any great scale at present however we do anticipate that many companies will look to undertake 'right-sizing' exercises."
Indeed CBCRS is currently experiencing a growing amount of enquiries as the sector prepares for the "new normal" which includes home working for all functions, which both directors believe is a sustainable activity – especially over the short term.
Clarke made the point that under current circumstances employers are far less likely to tolerate staff who work to only mediocre standards and, as with all times of crisis, they will be looking to extract low-performers from their posts. "Having said that," he added, "we are not anticipating the loss of many sales staff. Good employers will continue to attract good people and many will gear up to benefit from the opportunities that the recovery brings."
Although very conscious at not wishing to "talk up" the market, both CBCRS directors are cautiously bullish for the future - and full of praise for their long-established client base.
Clarke concluded: "Where we benefit – over 30 years – is in our good long standing relationships which count for everything. We never rest on our laurels and work hard for our clients."
Nevertheless, CBCRS does not envisage a V-shape recovery occurring this year. "We are more likely to have to wait for Q1 & Q2 2021 to see recovery."