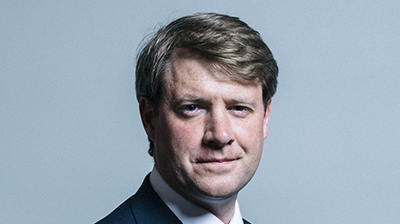 Former Energy Minister Chris Skidmore has published his Net Zero Review, outlining the opportunities offered by net zero. The UK's leadership on tackling climate change has delivered real change at home and led to a global transformation – but more should be done to reap the economic benefits that presents, Chris Skidmore says in his review.
Mission Zero, his Net Zero Review, makes 129 recommendations covering areas including the greater role that business can be supported to play, making better use of infrastructure and delivering more energy efficient homes. Every one is designed to maximise economic investment, opportunities and jobs – all while working towards achieving legally binding targets to reach net zero carbon emissions by 2050.
Skidmore urges ministers to grasp the 'historic opportunity', highlighting how the government's Net Zero Strategy offers the right direction, and the right policies to do so.
Chair of the Net Zero Review, Chris Skidmore MP, said: "We should be proud of the lead the UK has taken in tackling climate change, having exceeded expectations so far in our race to net zero emissions by 2050. As essential as that is environmentally, it also puts us at an economic advantage globally.
"We lead in areas including clean technologies, science, manufacturing and green finance – areas that, if managed right, can lead to new jobs and strong economic growth.
"In developing this report, we have engaged with communities, economists and climate experts from across the country through more than 50 roundtables and 1800 submissions – all of which have led to the Mission Zero findings.
"My recommendations are designed to make the most of this historic opportunity, covering the length and breadth of our economy, so that people in every part of the country can reap the benefits of this both in their communities, and in their pockets."
Chris Skidmore's proposals include:
backing business – these include reviewing incentives for investment in decarbonisation, including via the tax system, and launching a Help to Grow Green campaign offering information and advice to small businesses so they can plan ahead
backing local action – these include reforming the planning system to put net zero at its heart nationally and locally, and backing at least one Trailblazer Net Zero City, local authority and community that can work towards reaching net zero by 2030
delivering energy efficient homes – including legislating for the Future Homes Standard so that no new homes will be built with a gas boiler from 2025, adopting a 10-year mission to make heat pumps a widespread technology in the UK
using infrastructure to unlock net zero – including developing a cross-sectoral infrastructure strategy by 2025 to support the building and adaptation for new green energy sources such as hydrogen to support the green economy
Commenting on the publication of the Net Zero Review, Stephen Haddrill, Director General of the Finance & Leasing Association (FLA), said: "We have said repeatedly that lender involvement is necessary if the UK is to achieve Net Zero. Homes and businesses need finance to invest in renewables, but pricing that finance at affordable levels requires consistency of approach from Government and a willingness to share some of the inherent risks of financing new technology.
"While Chris Skidmore's Review recognises those points, what we need to see now is action from Government."
Gerry Keaney, BVRLA Chief Executive, commented on the Net Zero Review: "The sheer scale, depth and ambition of the Net Zero Review demonstrates the importance of this topic. Decarbonisation is not a choice. The review should be taken seriously by companies and governmental departments in every sector. Led by fleet, the automotive sector has long been a trailblazer in decarbonisation.
"The gaps between the recommendations being published and their ultimate transition into government policy will vary in size. Processes are complex and departments will need to come together to drive progress. Today's review represents a monumental step forward. We will continue to actively engage with all stakeholders to represent the sector's views and contribute to positive change."
Official statistics show there are already around 400,000 jobs in low carbon businesses and their supply chains across the UK, with turnover estimated at £41.2 billion in 2020. Both the British Energy Security Strategy and Net Zero Strategy aim to leverage an additional and unprecedented £100 billion of private investment, while supporting an additional 480,000 British jobs by 2030.