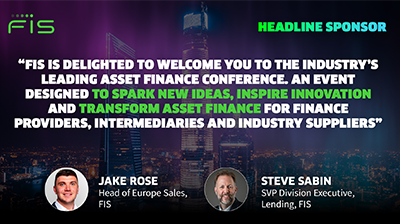 The focus of the Asset Finance Connect Autumn 2023 Conference is defined by primary research carried out by Asset Finance Connect, in association with FIS, into understanding levels of confidence in the asset finance industry over the coming months.
Sponsored by FIS, leading provider of software for the asset finance industry, the AFC Conference to be held on 29th November at etc venues, 155 Bishopsgate, London will explore issues highlighted by lenders and brokers in the asset, auto and equipment finance industry in the recent AFC asset finance confidence measures survey:
Economy – where are we in the economic cycle?
Understanding and responding to the challenge of a high interest rate environment and persisting market uncertainty resulting from geo-political upheaval including the war in Ukraine, Middle East turmoil and the growing Western divide with China.
Regulation – unintended consequences of Consumer Duty and implications of Basel 3.1 standards
The bedding in of Consumer Duty with its consequences – good, unintended and bad – and growing cost of compliance, the review of the Consumer Credit Act, and forthcoming changes to capital adequacy rules affecting lending to SMEs with the implementation of Basel 3.1 standards.
Technology – opportunities and challenges
Rapid technological change including the introduction of AI, for example, managing the use of data to create better outcomes for borrowers and lenders, the emergence of ChatGPT and the operationalising of machine learning.
Sustainability – growing awareness of challenges alongside opportunities
Positioning the industry to exploit the commercial and social opportunities from sustainability, while facing new challenges.
Supporting our younger professionals is also recognised as key to the success of our industry, so as part of the AFC Next Generation Workshop, in association with the Leasing Foundation, Marcella Merli, Head of CA Auto Bank Italy, will present a keynote session discussing diversity and inclusion in the industry. FIS' Jake Rose, Head of Europe Sales, and Shereen Faroqui, Head of Business Development FIS, will be moderators for the next gen roundtable discussions around diversity and inclusion, impact of career breaks, and social mobility.
FIS, leading provider of innovative asset finance software for the industry with FIS Asset Finance, are proud to be headline sponsors of the 2023 AFC Autumn conference.
The FIS team will be taking part in the conference throughout the day, sharing experiences and knowledge, and networking with industry colleagues, old and new. Make sure to visit the FIS stand and discover how FIS can help with your digital business transformation. For more information visit the FIS website and please read FIS and Finativ's latest thought-leadership paper around 'The Value of Data in PPU' here.
For more information on the Asset Finance Connect Autumn 2023 Conference and to book your tickets, visit the conference website.

Kindly supported by
| | | | |
| --- | --- | --- | --- |
| | | | |
| Headline Sponsor | Platinum Sponsor | Gold Sponsor | Silver Sponsor |
| | | | |
| Silver Sponsor | Silver Sponsor | Silver Sponsor | Fintech Innovator Sponsor |
| | | | |
| Registration & Refreshment Sponsor | Sponsor | Sponsor | Sponsor |
| | | | |
| Exhibitor | Legal Partner | | |
Corporate Members