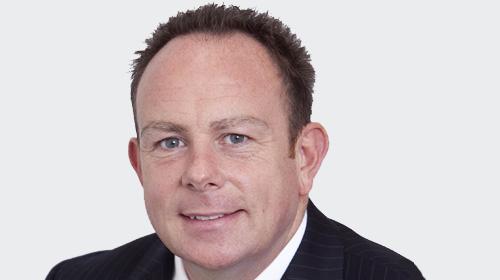 Last month, in a move that rather took the industry by surprise, CIT Group acquired Paris-based Nacco SAS (Nacco), one of the largest independent full service railcar lessors in Europe. The acquisition represented CIT's first investment in a European Rail franchise.
Nacco owns more than 9,500 railcars and services over 150 customers in 16 countries.
The acquisition came at a time when CIT Europe is very much "on the move" and aiming for growth.
In September 2011 CIT Group appointed of Rich Green as managing director of CIT Europe. In his new role he assumed responsibility for overseeing the European operations of CIT Corporate Finance and CIT Vendor Finance.
He brought with him a career background in finance stretching back almost almost 30 years. Prior to joining CIT, he held a number of senior UK and European roles primarily working at General Electric Company (GE) where he served as CEO for GE's European Commercial Distribution Finance business, managing director of the UK Capital Solutions, managing director for its UK Fleet business and European COO for GE's Equipment Finance business.
Rich Green now serves as president of CIT International Finance.
Green told Asset Finance International: "When I joined CIT in 2011, the company had already made significant progress in paying down its high-cost debt and in rebuilding its senior management team internationally. The challenges we faced in Europe were no different than those of our peers who also had to manage multiple priorities against a backdrop of economic uncertainty, modest GDP growth and challenging liquidity."
He added: "As part of a broader strategic review, we looked at our European franchise and chose to focus our equipment leasing and corporate financing efforts exclusively in the UK where we have scale and efficient funding.
"We have built a strong franchise in the UK that offers leasing and lending solutions to the SME market."
Growth plans
What have been CIT's European growth plans since Green assumed responsibility in terms of geography and market sectors – including an impression of the scale of the operation?
"We have two offices in the UK, one in Bracknell and the other in London where we have strong and experienced leadership teams," he explained. "We service our vendor finance assets and portfolios from our service centre in Dublin. We are well positioned to take advantage of the opportunities in the UK where expertise has been our calling card and service excellence remains our hallmark."
Green believes that there is an opportunity to grow CIT's franchise in the UK when one looks at data from the Finance and Leasing Association (FLA), which reported asset finance volumes of £22 billion in 2013.
"If you then drill down to analyse our addressable market," he said, "we would estimate it to be between £5 billion and £6 billion of that total market. We have a lead position in the technology and office equipment sectors and we have recently returned to the intermediary market and have received excellent feedback from the brokers."
New partnerships
Given that vendor relationships have traditionally been CIT's preferred market focus what major new partnerships can he tell us about?
"New vendor partnerships are very important to us and we successfully added 75 new relationships to our business in the UK last year. We continue to enjoy successful relationships with the likes of Konica Minolta, Sharp and Alto Digital. Our Vendor business is an established operation with a great mix of vendors, including manufacturers, dealers and intermediaries."
Green intends to remain focused on growing CIT UK's vendor business profitably and to continue to opportunistically look at portfolio acquisitions that meet his return objectives as another alternative to organic growth in the portfolio in the UK.
"We have recently," he said, "become a patron of the NACFB, which is supporting us in reaching new partners through the intermediary broker channel.
CIT Bank
How active is CIT Bank in the UK?
Green confirmed: "We have a UK bank that can accept wholesale deposits and today we have in excess of $500 million in assets, comprised of loans to the leveraged finance markets."
What was the thinking behind CIT Europe's acquisition of European Rail Lessor Nacco SAS? Is it part of a growing transportation portfolio for CIT Europe?
Green confirmed that CIT Rail had been looking to acquire an international platform for many years. Europe represents the best near-term opportunity given that Europe has one of the largest freight rail markets in the world with an established railcar leasing market most similar to that in North America. In addition, the European Union has established directives to develop and increase rail's freight share across the continent to alleviate highway congestion and environmental concerns.
"CIT Rail had evaluated several acquisition opportunities in Europe over the past few years," he said, "and has developed relationships and knowledge of the market. Nacco offered a unique opportunity to acquire an existing platform with a diverse and attractive fleet of 9,500 rail cars and more than 150 existing customers.
"Nacco had built its platform over 40 years to become one of the largest operating railcar lessors in Europe with a highly experienced management team with long-term industry relationships and technical knowledge."
The challenges
What does Green see as the greatest challenges to asset finance/leasing in Europe over the next 12 months? Do regulatory issues, such as proposed changes to the way that leases are accounted, offer a threat to the future of leasing?
"At a macro level," he stressed, "the real challenge is to increase funding to meet the demand within the SME market. We keep an eye on things in the broader market, like the consumer confidence index, and the business confidence index and we have recently started to see that picking up a bit. We also see growth opportunities in the equipment leasing and financing sector as SMEs look to improve their efficiency and grow their businesses through the investment in new equipment. The needs are most certainly there due to the pent up demand that emerged because many companies refrained from making capital improvements during the Great Recession, and it's our job to support them."
He added: "I think that another key challenge for the industry this year will be raising our collective profile, developing a co-ordinated voice and corralling broader interest. The Leasing Foundation is an excellent example of an independent organisation focused on the current and future requirements of the industry. We are working with the Leasing Foundation to support a number of its key initiatives, including: Diversity, Asset Observatory and the Future Leaders programme."
Future focus
For the future, how does Green plan to see CIT Europe develop in the next two years? Which new sectors are appealing?
Green said: "While our primary focus in our equipment finance business remains Technology and Office Equipment, we are keen to expand into new segments. We are currently exploring additional segments that are aligned with core CIT expertise.
"We are excited about our opportunities to grow this year and I think we have an advantage over many of our peers because we are able to leverage some of the developments and new products showcased by CIT, particularly in the US. We're able to monitor them from abroad and if we think they are relevant to our UK customers, we can transfer them to this market.
"However, one aspect of our offering that I do not see changing is the continuation of our strong customer focus and service. This has been the cornerstone of our offering and always will be."