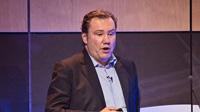 Finance companies wanting to develop connected car services have been urged to approach Opel/Vauxhall's OnStar service as it rolls out its developer programme.
OnStar is the built-in connected car service in Opel cars in mainland Europe and Vauxhall in the UK, offering support ranging from diagnostic checks and navigation to requesting the emergency services.
However, the system behind OnStar can be used as the heart of a broader connected car ecosystem by embedding a range of approved third-party apps.
Kenneth Malmberg, business development lead in Europe for infotainment and telematics at OnStar, said: "We have had OnStar since 1996. It has been very much a vertical service where it has been focused on safety and security.
"Now with 4G we actually have technology in place where you can do something exciting together with our customers and our partners.
"If you are a true platform you can also run different services and you create an ecosystem around it. You deal with third-parties and create a developer ecosystem."
He likened the development to Apple's smartphone, where the technology plays host to a wealth of third-party apps that enhance the phone's capabilities.
Third-parties use a software key, called an API, to interact with the OnStar system to collect data that powers new services.
This includes remote APIs that allow suppliers to interact with the vehicle from outside.
Malmberg, who was speaking at the British Vehicle Rental and Leasing Association Fleet Technology Congress, said: "The remote API is more of a focus on B2B applications. It requires an integration project and we can provide support through our developer team.
"There is a 'sandbox' environment where you can create the first iteration and concept of what you want to do."
Developers can access several pre-prepared data packages, or work with OnStar to specify a bespoke feed from more than 600 data sources.
Packages cover telemetry data, diagnostics information, driver behaviour and remote commands, including locking, unlocking and ignition blocking so the car can't be started.
He said: "We are currently focusing on three key use cases - fleet management, car rental/car sharing, and usage-based insurance.
"However, we are open to talk to various companies who have ideas around the connected car and can provide a benefit to our customers. Benefit to our customers is at the core of any discussion.
"There are many other use cases. When you have this data you can of course change mileage agreements, change financing models. There are endless opportunities. Bring us your innovations."
Malmberg pointed out that the data feeds are not being automatically collected and need to be switched on after a licensing agreement. Drivers would also have the final say on providing access to any data through on-screen agreements.
He said: "You need consent to share data. You need a fleet driver to give their consent. It needs to be a conscious decision so that's why we have a discussion around the use of the data."
Early adopters have included Octo Telematics, which provides usage-based insurance and fleet management solutions using OnStar technology.
When the company launched its partnership, Fabio Sbianchi, CEO of Octo Telematics, said: "We see the connected car as a positive shift in the industry, one that is increasingly focused on providing advantages to drivers. Our ability to analyse data so that consumers can benefit from insurance discounts is a great addition to the core OnStar proposition."
OnStar added that it was possible to isolate fleet from retail vehicles and fleets would be able to stop vehicles sharing diagnostic data with the manufacturer.
OnStar's invitation to third-party developers comes amid an ongoing debate about access to connected car data.
The motor industry has been arguing against allowing third-parties direct access to vehicle systems.
Instead many suggest providing access to a limited range of information through third-party servers, potentially for a fee.
However, attitudes to data ownership differ between industry sectors.
In the UK, the latest British Vehicle Rental and Leasing Association Fleet Technology Survey asked its members and fleet managers "who should control access to vehicle data".
Among BVRLA members, 62% said the lease company. By contrast, among fleets, 57% said the fleet manager.
A similar split was present when the BVRLA asked "who should control access to personal data".
Around 70% of BVRLA members and fleet managers believe that vehicle manufacturers have an obligation to provide vehicle data, with 86% saying that they should not have to pay for it.
All information regarding OnStar's API offering is available at https://developer.gm.com/.